Photographer: SeongJoon Cho/Bloomberg
Singapore GDP Grew More Than Earlier Estimated Last Quarter
by
Services, construction gained while manufacturing fell

Government reiterates 1% to 3% 2016 economic growth forecast
Singapore's economy grew more than initially estimated last quarter as a gain in services outweighed weaker manufacturing and exports.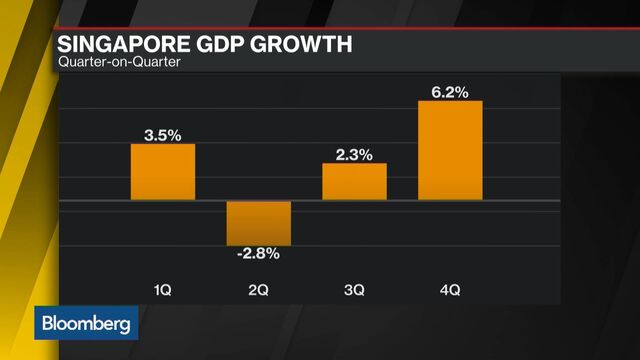 Gross domestic product rose an annualized 6.2 percent in the three months through December from the previous quarter, when it expanded a revised 2.3 percent, the trade ministry said in a statement Wednesday. That compares with a January estimate of a 5.7 percent gain and the median forecast of 4.5 percent in a Bloomberg News survey of 11 economists.
Services have been a support for Singapore's economy as slowing growth in China, one of its largest export destinations, has hurt demand for its goods. The city-state, among Asia's most vulnerable to swings in global demand, saw non-oil domestic exports slide the most in almost three years in January as shipments to China slumped.
"Services will be a key growth pillar for 2016, given Singapore's vulnerability to the global trade recession," Weiwen Ng, an economist at Australia & New Zealand Banking Group Ltd. in Singapore, said before the report. "But with manufacturing in the doldrums, it's hard to see services continue to outperform. Low growth of around 1 percent to 2 percent will be the new normal for Singapore in the years ahead."
The Singapore dollar erased declines after the data, trading little changed at S$1.4072 against the U.S. currency as of 8:23 a.m. local time and reversing a drop of as much as 0.1 percent earlier.
Growth Forecast
The government reiterated its forecast of 1 percent-to-3 percent expansion this year. Finance Minister Heng Swee Keat is set to unveil the budget for the 2016 fiscal year in Parliament in March.
"The global economic outlook has softened since the start of the year, alongside a sharp fall in oil prices and volatility in global financial markets," the ministry said in the statement on Wednesday. "Growth for the year is expected to be supported by strengthening growth in the advanced economies, even as conditions in the emerging markets remain challenging."
Singapore's economy expanded 1.8 percent in the fourth quarter from a year earlier, compared with the previous estimate of 2 percent and matching the median estimate in a Bloomberg survey. Growth was 2 percent last year, the slowest pace in six years according to previously reported data compiled by Bloomberg.
Manufacturing fell an annualized 4.9 percent in the fourth quarter from the previous three months, the revised data showed. Construction gained 6 percent, while services jumped 7.7 percent in the same period.
Economic Shift
Prime Minister Lee Hsien Loong is trying to transform the island into a global center for research and innovation as he seeks new drivers of growth while traditional ones like electronics exports falter. The city-state is in the midst of a 10-year economic restructuring plan that includes reducing reliance on cheap foreign labor and boosting productivity.
The Monetary Authority of Singapore eased its exchange rate-based monetary policy twice in 2015 as it said weakening prospects for global growth will pose headwinds. Singapore's consumer prices fell for a 15th straight month in January from a year earlier, the longest streak of declines since 1977, prompting authorities to cut their inflation forecast for 2016.
"We expect a weaker 2016," said Michael Wan, a Credit Suisse Group AG analyst in Singapore, who expects the MAS to keep policy on hold in April. "Even if we do get a weaker first-quarter GDP growth, what's necessary for easing are either one of these three things: China having a hard landing, rising unemployment, and core inflation is negative."
The MAS said at a briefing Wednesday its policy stance remains appropriate and unchanged.
Before it's here, it's on the Bloomberg Terminal.
LEARN MORE