Sands China Sees Macau Recovery as Parisian Opening Looms
by
Macau's gaming revenue drop could end this month: Wilfred Wong

Casinos saw `satisfying performance' over Lunar New Year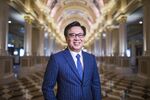 Sands China Ltd.'s new chief, hired by billionaire Sheldon Adelson for his experience in government, expects Macau's casino industry to snap a losing streak as early as this month as the company prepares to open the $2.7 billion Parisian Macao resort by September.
"It's scary that Macau's gross gaming revenue has seen declines for 20 months but I have confidence the drop could end in February," Wilfred Wong, who took over as president and chief operating officer in November and is the first Chinese in those roles at the company, said in an interview in Macau. 
The world's biggest gambling hub saw a "satisfying performance" during the Lunar New Year period earlier this month, as more tourists from mainland China visited Macau, boosting both the mass market and VIP segments, Wong said Wednesday.
Gambling revenue in Macau, the only place in China where casinos are legal, have been in a downward spiral since June 2014 when the country's slowing economy and campaigns against corruption led high-stakes VIP gamblers to avoid the city. Sands China, one of Macau's biggest operators with four casinos, has seen revenue slump for six quarters.
New Year
Sands China's results in 2016 are expected to be relatively flat compared with last year as the casino industry starts to recover, Wong said, without specifying. Analysts expect the company's revenue this year to decline 2.5 percent from 2015, and for net income to drop 8.5 percent, according to estimates compiled by Bloomberg.
Echoing Wong on an expected recovery for Macau, Galaxy Entertainment Group Ltd. Deputy Chairman Francis Lui said Thursday the company "feels quite positive" about gambling revenue in February, after it reported fourth-quarter earnings that were better than analysts expected, boosted by its new casinos.
Galaxy, which opened its new Galaxy Macau expansion and Broadway casinos in May, saw its hotels report 99 percent occupancy during the week-long Lunar New Year period, and gambling remained strong in the days after the holiday, said Lui in a briefing in Hong Kong after the results were released.
Eiffel Tower
Casino shares mostly closed lower Thursday, with Galaxy dropping 2.3 percent and Sands China down 0.8 percent amid a broader sell-off in Hong Kong and China stock markets. The benchmark Hang Seng Index lost 1.6 percent.
Sands China's Parisian, which is targeted to start operations in September, could see some facilities such as a replica half the size of Eiffel Tower open beforehand, as part of a promotional push to draw tourists, according to Wong.
The 82-year-old Adelson had said in December he hoped to get government approval for 250 new gambling tables for the Parisian. Sands "won't complain" if it was allocated that amount, but but hoped to be allowed to set up more tables, taking into account the project's investment into its non-gaming facilities, said Wong, a 15-year veteran of China's top lawmaking body the National People's Congress.
Job Interview
His job interview with Adelson took place over 30 minutes in Macau, Wong said, during which the pair discussed his background with the Chinese government and previous job as chief executive officer of Hong Kong-based Hsin Chong Construction Group Ltd., which has been involved in the construction of Sands China's casinos, Wong said.
Wong, who also served as a member of the Hong Kong Basic Law Consultative Committee, said he spent his first few months with Sands China calling on all the Macau government departments related to the casino industry.
"As Macau and Hong Kong work quite closely with each other, some Macau officials already know my name, which makes my work much easier in the city."
Before it's here, it's on the Bloomberg Terminal.
LEARN MORE