Salesforce Jumps as Outlook Quiets Concerns Over Economy
by
Company is investing in products, acquisitions to fuel growth

Forecast for profit, revenue help to push shares higher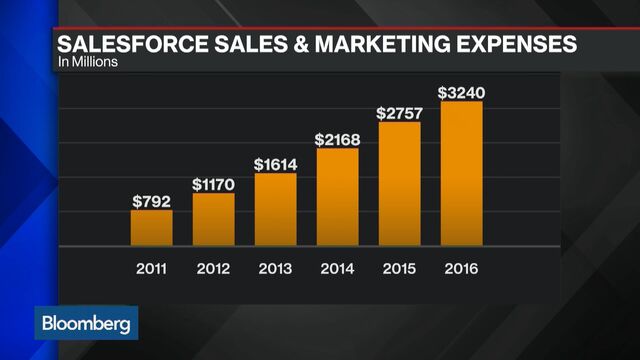 Salesforce.com Inc. jumped the most in 10 months after it issued a forecast that easily topped estimates, giving investors another sign that the cloud-computing pioneer will be able to weather economic headwinds.
The San Francisco-based company forecast sales for the current quarter and the rest of the fiscal year that topped expectations, and even its own earlier annual outlook. The results came after other tech companies -- from Apple Inc. to Tableau Software Inc. -- signaled economic pressures in their businesses.
Chief Executive Officer Marc Benioff is seeing benefits from investing in a wider array of products that are delivered over the Internet, giving customers new flexibility in how they use business software and how it pays for it. Executives say the company is fueling growth with new deals not just with chief information officers, but the CEOs themselves.
"Salesforce is the only enterprise software company of the cloud era who has critical mass -- and is not going away," said John Rizzuto, an analyst at Suntrust Robinson Humphrey Inc.
The shares rose 11 percent to $69.42 at the close in New York, the biggest single-day increase since last April. Even with Thursday's gain, Salesforce shares have declined 11 percent this year.
Sales in the period that ends in April will be $1.885 billion to $1.895 billion, the company said in a statement Wednesday. Analysts on average had estimated revenue of $1.86 billion, according to data complied by Bloomberg.
Software Concerns
The company's shares took a hit earlier this month along with those of other software companies after Tableau, a maker of data-analysis and charting software, saw its value plummet by half in one day following results that fell short of some estimates. That raised concerns among investors that Salesforce -- which reached all-time highs in December -- could also stumble.
For the fourth quarter, which ended in January, profit before certain costs was 19 cents a share, matching analysts' average projection. Sales in the quarter rose 25 percent to $1.81 billion, beating the estimate of $1.79 billion. Unbilled deferred revenue, a closely watched number that indicates the amount of business booked but not yet recognized, increased 25 percent to $7.1 billion.
Big Deals
Keith Block, Salesforce's chief operating officer, said big deals helped fuel results.
"We had a outstanding quarter -- again, just a historic quarter," Block said in an interview. "We drove an all-time high in large transactions in the quarter. We had over 600 7-figure-plus transactions."
Salesforce has been stepping up acquisitions to expand its reach into areas such as pricing and machine learning. In December, the company agreed to buy SteelBrick Inc., which helps companies manage price quotes for customers. Last week, Salesforce acquired startup PredictionIO, which assists software developers.
First-quarter profit excluding certain items will be 23 cents to 24 cents a share, Salesforce said, compared with an average estimate of 21 cents. For fiscal 2017, the company forecast profit of 99 cents to $1.01 per share, compared with predictions for 99 cents. Revenue for the year will be $8.08 billion to $8.12 billion, Salesforce said, while the average analyst projection was $8.08 billion.
"What we're seeing is a strong fourth-quarter finish, a strong '16," said Salesforce Chief Financial Officer Mark Hawkins, adding that the company is doing well even as some may have concerns about the economy. "Across all clouds, across all geographies, we're seeing a consistently strong performance."
Before it's here, it's on the Bloomberg Terminal.
LEARN MORE