Lew Says Don't Expect `Crisis Response' From Group of 20 Meeting
By
Global economy isn't in crisis, Treasury secretary says

Views of China's economy have been `unduly' negative, Lew says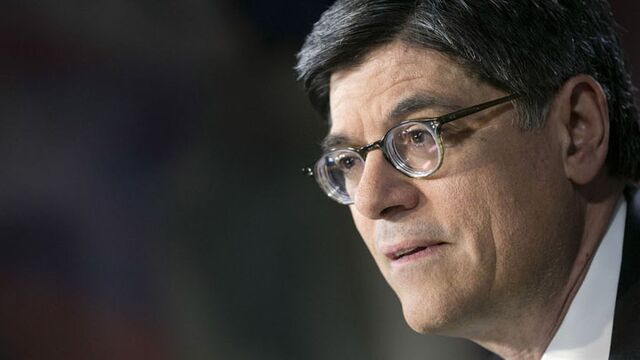 U.S. Treasury Secretary Jacob J. Lew downplayed expectations for an emergency response to global market turbulence when Group of 20 finance chiefs and central bankers meet this week in China, calling on nations to do more to boost demand without pursuing unfair currency policies.
"Don't expect a crisis response in a non-crisis environment," Lew said in an interview broadcast Wednesday with David Westin of Bloomberg Television. "This is a moment where you've got real economies doing better than markets think in some cases."
Policy makers from the world's biggest economies are unlikely to make the kind of detailed national commitments to restore growth they did to at the height of the global financial crisis, Lew said. Instead, the group, which meets in Shanghai Feb. 26-27, may put more "meat on the bones" of the principles it has advocated in recent years, such as by strengthening the pledge that nations will refrain from competitive currency devaluations, he said.
While the world economy isn't in a moment of crisis, Lew said that "I don't think it's unreasonable to have the expectation that coming out of this will be a more stable understanding of what the future may look like."
Lew's comments discount the prospect of a coordinated agreement to boost lackluster global growth and restore confidence after a selloff in world stocks to start the year. Some analysts and investors have called for a modern-day Plaza Accord, the 1985 deal among major economies to weaken the dollar and stabilize currency markets.
The world's cloudy growth outlook and policy makers' potential response will dominate the agenda in Shanghai, according to people familiar with the talks. It's unlikely to produce the kind of action that came out of the G-20 meeting in London in April 2009, when countries collectively pledged more than $1.1 trillion in stimulus to rejuvenate a then-hobbled global economy.
Currency Commitment
Lew said the U.S. wants a more serious commitment from other G-20 countries to use monetary policy, fiscal measures and structural reforms to stoke demand.
"You can't count on the United States providing all the demand for the world. You can't be the consumer of first and last resort," he said, adding that China can do more to stimulate consumer demand and Europe and Japan can use fiscal policy to boost growth.
He said the U.S. will be pushing for a firmer commitment by nations not to try to boost their economies by depreciating their currencies.
"If the conversation were to go the other way, and you were to see some reticence to make the commitment to refrain from competitive devaluation and not take it a little bit of a step further, that would be a cause of real concern," Lew said.
Much of the spotlight at this week's meeting will be on China, which has struggled to maintain confidence in its policy making since a surprise devaluation of the yuan in August. People's Bank of China Governor Zhou Xiaochuan broke a months-long silence in an interview with Caixin magazine published this month, arguing there's no basis for continued yuan depreciation.

While the challenges facing China's economy are "really quite significant," Lew said, "they're being interpreted in a way that is unduly negative."
Still, he said a lack of communication about the country's currency policy has "made it very hard for anyone to really understand what they were trying to accomplish."
Lew reiterated the U.S. position that China needs to let the yuan go both "up and down with markets."
"When there is pressure to appreciate, it has to be appreciating," he said. "When there's pressure to depreciation, we can't complain if it depreciates."