Ian Prior, Ex-Barclays Senior Manager of Credit Risk, Dies at 59
Nancy Moran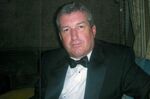 Ian Prior, a credit risk specialist who joined the Federal Reserve Bank of New York after spending more than three decades at Barclays Plc, has died. He was 59.
He died Feb. 21 at his home in New Canaan, Connecticut, according to his wife, Janet. The cause was cancer.
"He was a kind, intelligent, principled man, a great communicator on all levels," she said Wednesday in a telephone interview.
Prior joined the Fed in 2013 as vice president and head of its wholesale credit team, monitoring both SIFIs, or systemically important financial institutions, and LIFIs, large international financial institutions.
"This is truly a great loss for the credit risk department, supervision, the bank, and the system as a whole," his group's management said in a note to Prior's colleagues. "He was a trusted colleague and a caring manager. His expertise and insights were highly recognized and valued by all that worked with him."
Prior held multiple roles at Barclays Capital, the former name of London-based Barclays's investment bank. For more than four years through March 2002, he was chief credit officer for the Asia-Pacific region. Based in Hong Kong, he oversaw the firm's risk profile during the Asian sovereign debt crises of the late 1990s. Barclays is the second-largest U.K. bank by assets.
He moved to New York to lead the Americas credit risk team for eight years through 2010. That year, he was promoted to chief operating officer of global financial risk management, holding the post for seven months due to his desire to keep his family in the New York area, his wife said.
Prior then spent three years as head of capital management and planning for Barclays's investment banking division, guiding capital positions across sectors and regions, according to his LinkedIn profile.
Prior's Legacy
Ian "proved an invaluable and trusted advisor to everyone he worked with at Barclays throughout his career, and the strength of our operations in the Americas is a testament to his legacy," Joseph Gold, chief executive officer of the Americas at Barclays, said in an e-mailed statement. "He will be greatly missed."
Travel, a large component of Prior's job while at Barclays, was also a passion. When he wasn't on the move, he cherished the time spent with family in New Canaan, his wife said. As he became sicker, he often worked from home.
His main activities outside work included sports such as skiing and golf, and he was a history buff, with a particular interest in the U.S. Civil War.
Ian Russell Prior was born Jan. 27, 1957, in Ashton-in-Makerfield, England, to the late Alan Prior and the former Mavis Roberts. He was one of four children. In 1984, he received a diploma in financial studies from the Institute of Bankers in London, giving him the qualification of Associate of the Institute of Bankers, or AIB.
He is survived by his wife, the former Janet Pendlebury, and daughters Madeleine, Alexandra, Harriet and Philippa; his mother, Mavis Alker, and her husband, John; sisters Helen Smith and Sandra Johnstone; and a brother, Andrew Prior, according to a notice on the website of Hoyt Funeral Home and Cremation Service in New Canaan.
Related ticker: BARC LN (Barclays Plc)
Before it's here, it's on the Bloomberg Terminal.
LEARN MORE