Frenemies
How Marco Rubio Blunted Ted Cruz—and Boosted Donald Trump
By working relentlessly to brand Cruz a liar, Rubio also handed Trump a shield from the only campaign waging regular attacks against him.
By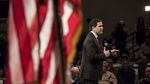 When Marco Rubio called Ted Cruz a liar in the Feb. 13 debate, he was trying to defend himself from Cruz's portrayal of him as a timid conservative. But the Floridian also ended up helping Donald Trump fend off the one candidate attacking him, as the brash billionaire won his third consecutive blowout victory Tuesday in Nevada.
Echoing Rubio's attack during that debate, Trump labeled Cruz "the single biggest liar."
Since then, both Trump and Rubio have pounded away at Cruz's integrity without attacking each other, and the dual assault has helped blunt Texan's momentum, according to his own surrogates, after Cruz's upset victory over Trump in Iowa and an unexpectedly strong third place finish in New Hampshire. Cruz came in third in South Carolina, losing to Rubio by a razor-thin margin, and he trailed in third behind Rubio in Nevada.
According to entrance polls by CNN, the attacks took a toll on Cruz in the final stretch. Republican voters who made up their minds in the last week went for Rubio over Cruz by a two-to-one margin. Most surveys in the run-up to the Nevada caucuses found Cruz leading Rubio for second place.
By working relentlessly to brand Cruz a liar, Rubio has also handed Trump a shield from the only campaign waging regular attacks against him, and also a sword to turn it around on Cruz. The uncoordinated yet similar assaults were especially damaging given that Cruz delivers stump speeches in front of a logo that reads "TrusTED."
"I think both the Trump and the Rubio campaigns have seized on the narrative that if they say 'liar' enough, enough people are going to believe it," Cruz's Georgia co-chair Louie Hunter told the Washington Post. "I think that has manifested itself into some people questioning, albeit incorrectly, the real moral character of Senator Cruz and of this campaign."
In the same stretch beginning on Feb. 13, Trump extended his national lead from 29 percent to 34 percent, according to the RealClearPolitics average of surveys, reversing a downward trend in previous weeks. In the same period, Cruz remained largely flat and Rubio dipped marginally.

A Besieged Cruz
In campaign speeches and TV ads, the Texan and his allies have been torching Trump as a phony conservative by highlighting his past liberal views on issues like abortion and health care. Those attacks lost oxygen amid Cruz's defensive posture against constant charges of dirty tricks by Rubio—some of them real, others unsubstantiated—and fierce attacks on his character by Trump at campaign rallies.
Cruz sought to break the cycle by firing his communications director Monday for spreading a false report questioning Rubio's faith, but the announcement only sparked another attack. "There is a culture in the Cruz campaign, from top to bottom, that no lie is too big and no trick too dirty," Rubio spokesman Alex Conant said in response.
A day later, Rubio's campaign sent its supporters an e-mail warning of more potential "dirty tricks" by Cruz, though it didn't offer evidence of any in Nevada.
The character attacks have irked Cruz, who said Monday that they could potentially ruin the GOP's only hope of defeating Trump, which he argued is his campaign, noting that he's the only candidate who has beaten Trump in a state so far.
"If other candidates devote all of their time and energy to attacking us, to engaging in personal slurs and attacks, it is possible they could weaken us to a sufficient extent that they hand Donald Trump the nomination. That is a possibility. I hope that it doesn't happen," Cruz told reporters in Las Vegas.
On Tuesday night, after congratulating Trump on his victory in Nevada, Cruz again said he's the only Republican who can beat him, pointing to his victory in Iowa.
'A Thing of Beauty'
As he steamrolled his way to another massive victory, Trump expressed appreciation for Rubio's attack on Cruz. At a Monday rally in Las Vegas, Trump twice called Rubio a "nice guy" and described the Floridian's decision to call Cruz a liar in the debate as "a thing of beauty." In the same speech, Trump hammered Cruz, and boasted that he defeated the Texan among evangelicals in South Carolina "because they don't like liars."
Rubio, by contrast, has barely laid a glove on Trump. His campaign aides have privately argued that if he's the last Republican candidate standing against Trump, he'll emerge victorious in a one-on-one contest, a scenario that voter data say is at best uncertain and becomes tougher each day as the real estate mogul extends his delegate lead.
"It's unclear that Trump would be beaten in a two-way right now. This is mostly wish-fulfillment by anyone who says it," Patrick Ruffini, a Republican pollster who is heavily critical of Trump, wrote on Twitter. "The strategy of ignoring Trump while pressuring candidates with no incentive to drop out is madness."
In a neat illustration of how the Cruz-Rubio battle is helping Trump, aides to the two senators responded to the Nevada results Tuesday by attacking each other in separate memos and on social media, without going after the man who trounced them.
Trump, who polls far ahead of Rubio in the swaths of states that vote from March 1 to March 15, doesn't view him as a serious threat to his prospects. But he fired a warning shot in the Floridian's direction on Tuesday at a rally in Sparks, Nevada.
"I've been very nice to Rubio, because he hasn't hit me," Trump said. "When he does, you will see what happens."
Before it's here, it's on the Bloomberg Terminal.
LEARN MORE