How Low Could Pound Go in a `Brexit'? Economists See 1985 Levels
by , , and
29 of 34 economists see drop to $1.35 or below on leave vote

Sterling already at seven-year low as EU campaign heats up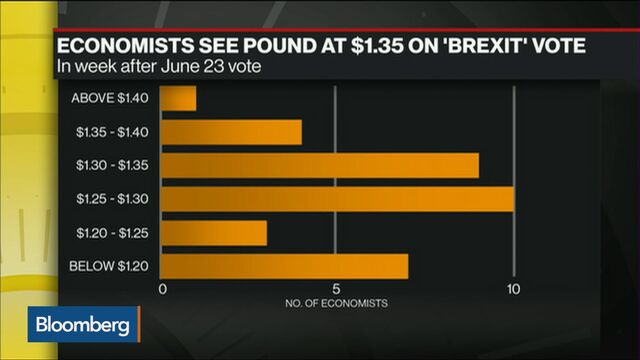 A British exit from the European Union would be so devastating for the pound that 29 out of 34 economists in a Bloomberg survey see it sinking to $1.35 or below within a week of a vote to leave -- levels last seen in 1985.
Twenty-three of the economists say sterling wouldn't recover from that rate within three months of the June 23 referendum. Seven see the U.K. currency falling below $1.20 immediately after a "Brexit" vote. And just one sees it above $1.40. That's stronger than its low on Wednesday, when the pound fell through $1.39 for the first time since 2009.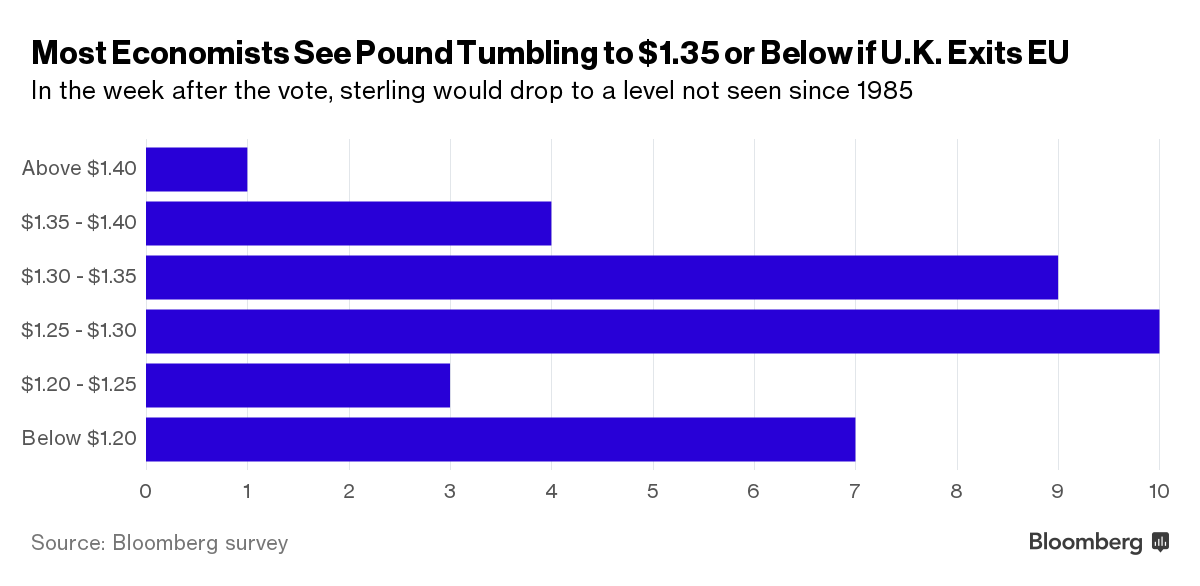 The pound has already dropped more than 2 percent versus each of its Group-of-10 peers in 2016 as an uneven economic recovery and waning prospects of an interest-rate increase add to concern the nation will quit the world's largest single market. The slide has accelerated since Prime Minister David Cameron announced the date of the vote on Saturday, and everyone from politicians to corporations are now setting out their views for and against Britain quitting.
"A vote for Brexit would hit sterling hard," said Nick Kounis, head of macro research at ABN Amro Bank NV in Amsterdam. He was one of the survey respondents and sees the pound falling to below $1.20 within a week of an exit vote. Sterling would be hurt by "the negative implications for growth and hence interest rates, but also because of capital outflows and concerns about the financing of the current-account deficit."
Pound and Politics
The pound is already becoming a political football. Pro-Europeans cited Goldman Sachs Group Inc.'s warning that the currency may fall 20 percent on a Brexit in their campaign material. Sterling slumped the most since 2010 on Monday after London Mayor Boris Johnson, one of the nation's best-known politicians, lent his support to the "Leave" campaign, putting him at odds with party colleague Cameron.
The prime minister was questioned by lawmakers on Monday and asked whether the pound's slide is a sign of the economic upheaval that would follow an out vote. And Bank of England Governor Mark Carney was drawn into the debate on Tuesday, acknowledging that the referendum campaign is weighing on sterling.
The BOE would respond to a vote to leave the EU by cutting interest rates from a record-low 0.5 percent, said Enrique Diaz-Alvarez, chief risk officer at Ebury Partners, a London-based broker which topped Bloomberg's rankings for forecasting euro-sterling in the second quarter of 2015. This could happen as soon as the day after the vote, he said.
"The theme of the last few years has been currencies dominated by the relative stance of central banks, and clearly if Brexit does happen we'll see an immediate response from the Bank of England," said Diaz-Alvarez, who didn't take part in the survey. Officials would "cut back to zero, removing all chances of a hike in the immediate future."
Surpassing Low
The pound is already at the lowest level since March 2009, falling as far as $1.3879 on Wednesday. It sank to a 14-month low of 79.08 pence per euro, and is at its weakest on a trade-weighted basis since December 2013.
Reaching the lowest level versus the dollar since 1985 would mean surpassing 2009's low of $1.3503 and see it tumble to levels unvisited since Prime Minister Margaret Thatcher crushed the unions in Britain's miners' strike and London was aflame with race riots -- and hosted the U.K. leg of the "Live Aid" concert.
The pound may tumble immediately after a vote to quit the EU, but would probably recover some of its losses, said Peter Dixon, a London-based economist at Commerzbank AG. He sees sterling above $1.25 and up to $1.30 a week after a vote to leave, and between $1.35 and $1.40 three months afterward.
"I could certainly imagine an initial pound collapse of up to 10 percent, but I suspect this would not be sustained and we would see more of a rebound thereafter," Dixon said. "If the indications are that the U.K. is likely to vote for Brexit, it is likely that the bulk of the pound depreciation would take place before polling day."
Before it's here, it's on the Bloomberg Terminal.
LEARN MORE