South African Budget Disappoints Investors Seeking Bold Plan
Rene Vollgraaff and Mike Cohen
Budget deficit set to narrow, no major tax increases planned

Economic growth forecast for 2016 cut by almost half to 0.9%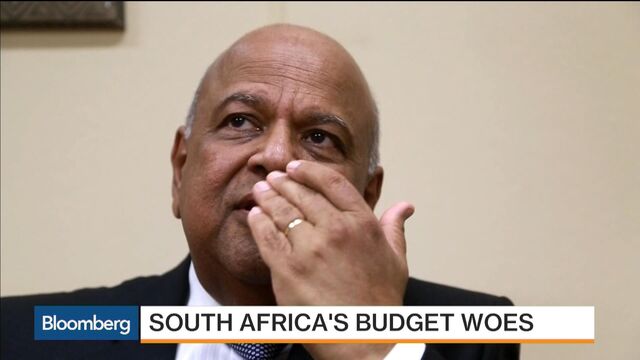 South African Finance Minister Pravin Gordhan pledged to cut the civil service and increase wealth taxes to help bring down the budget deficit and stave off a credit rating downgrade to junk, yet disappointed investors looking for bolder action.
Gordhan, 66, faced a difficult balancing act in his first budget since being reinstalled to the job in December, as he sought to buoy an economy set to grow at the slowest pace since a 2009 recession without increasing the debt burden. While he pledged to narrow the fiscal gap to 2.4 percent of gross domestic product in three years from the current 3.9 percent, that fell short of expectations of bigger tax increases and sales of state-owned companies.
The rand plunged against the dollar, euro and pound, sliding as much as 2.9 percent versus the U.S. currency, the most since Jan. 11. The yield on the benchmark 10-year bond climbed 20 basis points to a three-week high.
"It's a lot of talk and rhetoric, but the changes to the numbers that are necessary to bring about what he promises are all in the outer years and based on very optimistic assumptions," George Herman, head of South African investments at Citadel Investment Services, said by phone from Cape Town. "The markets don't like this."
South Africa is at risk of losing its investment-grade credit rating as economic growth slows and debt climbs. Standard & Poor's has a negative outlook on its BBB- rating, which is one level above junk.
"The negative outlook is there," Konrad Reuss, managing director for Africa at the ratings company, said at the Bloomberg Africa Business and Economic Summit in Cape Town. "It's not going to go away. That is mainly because we are worried about growth in the economy and how the National Treasury and others in government can manage in a prolonged period of low growth."
Gross debt will rise to more than 50 percent of GDP for the first time in at least 25 years, according to the Treasury. Debt has almost doubled since President Jacob Zuma came to power in 2009, when the economy was facing recession and market turmoil linked to the global financial crisis.
Fiscal Consolidation
The government will miss this year's tax-revenue target, widening the budget shortfall to 3.9 percent from the 3.8 percent forecast in October. The deficit will narrow to 3.2 percent in the fiscal year beginning April 1, better than the 3.5 percent median estimate of 21 economists surveyed by Bloomberg.
The budget "is focused on fiscal consolidation," said Gordhan, who cushioned low-income earners from tax increases while cutting spending targets. "We cannot spend money we do not have. We cannot borrow beyond our ability to repay. Until we can ignite growth and generate more revenue, we have to be tough on ourselves."

Gordhan is seeking to restore policy credibility after Zuma sent the rand and bonds reeling when he unexpectedly fired Nhlanhla Nene as finance minister in December and replaced him with a little-known lawmaker, David van Rooyen. The market fallout and lobbying by business leaders led Zuma to backtrack on his decision four days later and reappoint Gordhan to a position he had held from 2009 until 2014.
Zuma and Gordhan have since held four meetings with business leaders to discuss what can be done to rebuild the country's reputation.
"The minister did a solid job in very difficult circumstances," Mike Brown, the chief executive of Nedbank Ltd., the nation's fourth-biggest bank, said by phone. "From a ratings point of view, this is one step in a process and the review panels will base their decisions on the outcomes rather than one speech."
Austerity Measures
While the minister didn't mention the risk of a credit-rating downgrade in his speech, the National Treasury said in the Budget Review that under a best-case scenario, a cut to junk may cause interest rates to spike in the short-term and the rand to weaken further.
"In a less-favorable scenario, it could trigger a sharp reversal of capital flows and precipitate a recession," which would require severe fiscal austerity measures, it said.

Gordhan raised taxes on capital gains and property sales to help boost revenue, while pledging to curb the civil service by eliminating non-essential jobs. He avoided lifting the value-added tax rate, which the National Treasury estimates could raise as much as 20 billion rand ($1.3 billion) in revenue if it was increased by 1 percentage point from 14 percent.
"Market expectations were a lot higher for a more austere budget," Mike Schussler, chief economist at Johannesburg-based research group Economists.co.za, said by phone. "Will they really be able to curtail the wage bill? That's the key question."
The Treasury lowered its economic growth forecast for this year by almost half to 0.9 percent as weak global demand and the worst drought in more than a century curbs output.
Gordhan did a good job under very difficult circumstances, said Maria Ramos, the chief executive officer of Barclays Africa Group Ltd. and a former head of the National Treasury.
"It is a courageous budget," she said. "The minister put together a budget that focused on getting expenditure under control while still spending on things that matter."
Before it's here, it's on the Bloomberg Terminal.
LEARN MORE