For RBS, This Haggis Maker Isn't Too Small as Rose Grows Lending
by
Alison Rose's commercial bank now counts half of bank's assets

Analysts say Rose among potential successors for CEO McEwan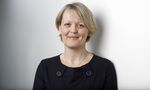 It was after the third meeting that Alison Rose was asked whether she liked haggis.
"Yes I do," Royal Bank of Scotland Group Plc's head of commercial and private banking said to managers at Macsween of Edinburgh Ltd., a maker of the lungs-and-liver delicacy she was meeting 10 miles from the bank's headquarters in the Scottish capital. "Every time I go and see them they give me new samples of haggis, and make me try different versions."
As RBS shrinks, Rose, 46, who now runs almost half the bank's assets, lends to British companies that are sometimes tiny. It's a long way from the days of global domination sought by former Chief Executive Officer Fred Goodwin, when mergers, trading securities and packaging complex derivatives created one of the biggest banks in the world before its implosion. Rose's ascent in the new RBS may eventually position her to be its CEO.
"I'd certainly see her as one of a number of potential internal candidates," said Ian Gordon, an analyst at Investec Plc with a buy rating on RBS. "The fact she is running a forward-looking business already making hurdle-rate returns probably also helps."

Rose aims to make sure clients don't walk as RBS shrinks and rivals like Deutsche Bank AG create teams specifically aimed at poaching the Scottish lender's clients. (Coincidentally, Deutsche Bank is said to call that its "haggis team.")
Towards the end of last year, McEwan, 58, told Rose her focus would be to grow the commercial and private bank in 2016. She's expanding lending to firms with revenue of at least 2 million pounds ($2.8 million) to the largest companies in the FTSE 100 at or above the rate of growth in the British economy -- within risk parameters she helped devise. She's targeting small businesses like Macsween, manufacturers and homebuilders.
She beat the measure in the third quarter, with net new lending rising 1.5 billion pounds, with growth across most segments. Total assets at the unit rose 1 percent on the previous three months to 112.7 billion pounds, while operating profit increased 33 percent to 427 million pounds.
Rose's division is emerging from the ashes of the world's biggest financial rescue as the core of the firm as CEO Ross McEwan shrinks investment banking and global operations to focus on the British Isles. The lender, still 73 percent owned by the British state, is set to report its eighth straight annual loss since the financial crisis when it publishes earnings on Friday, according to analysts' estimates. 
Startups Welcome
Rose, an investment banker who ran RBS's leveraged finance division in the U.K. and Europe in the boom days, helped clean up the securities unit in the aftermath of the crash before being promoted to her current role two years ago. Joining National Westminster Bank as a graduate trainee in 1992 prior to its purchase by RBS in 2000, she and chief human resources officer Elaine Arden are the only women on Ross McEwan's eleven-member group executive committee, which oversees overall strategy.
McEwan and Rose are seeking to draw a line under years of bad headlines and scandal, from allegations RBS deliberately pushed clients into bankruptcy to compensating small firms who were wrongly sold derivatives.
The lender is inviting startups to work from the executive wing of its Edinburgh headquarters and other hubs around the U.K., while Rose's executive committee must visit customers at least four or five times a week.
"If you lose touch with customers then you really lose touch with what you're trying to achieve," Rose said in an interview in her corner office on the tenth floor of RBS's London hub, overlooking the eastern reaches of the capital from Bishopsgate. "It's really important when you're running a big business, particularly like ours, that you don't lose that connection."
'Leading Franchise'
That isn't to say her division is immune from sweeping changes, given its close link to RBS's investment bank, where McEwan is exiting operations in 25 countries. That cuts the number of products she can offer to her clients, as RBS reduces risk-weighted assets at the corporate and investment bank to about 30 billion pounds from more than 100 billion pounds at the start of last year.
"For long-term relationship banking, you want to have principal bankers that are reasonably stable," said Edward Firth, an analyst at Macquarie Group Ltd. in London with a neutral rating on shares. The commercial banking operation "is probably their strongest business. It takes years and years to get into and they've got a leading franchise."
While Rose wouldn't say how many positions will go at her division, which employed 8,700 at the end of September, or about 10 percent of the total, down from 10,200 a year earlier, there "will be an impact" from replacing manual processes with information-technology. She says her unit could add staff if required.
Coutts Leadership
Some reductions will also come at Coutts & Co., Britain's biggest private bank, whose clients include the royal family. The new CEO for the unit, former JPMorgan Chase & Co. executive Peter Flavel, will help cut a cost-income ratio that reached 90 percent in the third quarter. "We've got to get the cost base right for the shape of the business we've now got, not the bigger business we've sold," Rose said, referring to the sale of Coutts's non-U.K. assets to Switzerland's Union Bancaire Privee last year.
While meeting customers is one challenge, managing their needs as the bank shrinks is another. Some clients including Royal Dutch Shell Plc tapped other banks after RBS exited non-U.K. transaction-banking services, people familiar with the matter have said. Thames Water Utilities Ltd., a client of RBS's NatWest division for more than 20 years, is re-tendering its contract as part of a periodic review, a spokeswoman for the company says.
Succession Planning
Among customers staying loyal is John Jones, treasurer of Imperial Brands Plc, which used a 7.7 billion-pound loan facility co-arranged by RBS to help it acquire tobacco brands in 2014. "RBS continue to offer the product range that we are looking for," he said by e-mail. Macsween is staying put too, according to the third-generation owner of the family firm, which started as a butcher's shop making Scotland's national dish in 1950s Edinburgh and has 6 million pounds in annual sales.
The efforts are paying off, said Jan de Ruiter, RBS's former head of Europe, Middle East and Africa coverage, who used to work for Rose before leaving last year.
"Ross is doing a good job, but nobody stays there forever -- with any succession planning, I'm sure she'd be on that list."
Before it's here, it's on the Bloomberg Terminal.
LEARN MORE