Financiers Dig Into the Cookie Jar to Treat Kids With Cancer
By
Chefs cook and bake for NYSE's Farley, OZ's Samuels, Paul Rudd

Effort to fund cancer research sparked by six-year-old boy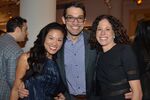 New York Stock Exchange President Tom Farley said "snickerdoodle," and his hosts at the third annual benefit for Cookies for Kids' Cancer delivered -- almost.

Inside a copper-topped cookie jar prepared for each of the 400 guests, including Bank of America Chief Administrative Officer Andrea Smith and Hoplite Capital Management's Garrett Berg, were 14 kinds of baked treats. Among them: a variation on Farley's favorite -- a sprinkledoodle, with colored sprinkles instead of cinnamon -- as well as a mezcal pecan sandie and a chocolate-chip cookie with French gray sea salt.

Cookies have helped raise $10 million for pediatric cancer research that's led to breakthroughs including one treatment that delivers a drug directly to a brain-stem tumor. The non-profit was founded by Gretchen and Larry Witt, who in 2011 lost their six-year-old son, Liam to the disease after a four-year battle. Liam loved to cook and bake -- when he couldn't eat during treatments, he made up desserts on his computer.

"The Witts are incredible to take something so awful and turn it into something so great," said Adam Futterman of Leerink Partners, who wasn't disappointed there were no oatmeal raisin cookies (his favorite) in the jar. "This is an amazing event."
Cookies for Kids' Cancer started raising money through volunteer-led bake sales, a grassroots model that generates revenue year-round in the U.S. and abroad. In 2014, it held its first big-ticket benefit in New York, taking the bake-sale model to a delicious, adrenaline-filled extreme by gathering the hottest chefs to make the appetizers, dinner and dessert as sommeliers and bartenders quenched thirsts. Most of the cooking at Cookies for Kids' Cancer takes place in front of guests, at stoves donated by Samsung.


The event on Tuesday night at the Metropolitan West event space, with tickets starting at $1,300, raised more than last year's $1.1 million.

Here, James Kent of Nomad pulled squab out of the oven; Johnathan Adler of Franny's (who's joining Blue Apron, the company that gives you kits to make meals at home) assembled plates of salumi; and Jeremiah Stone and Fabian von Hauske of Wildair and Contra paired cauliflower and seaweed. Alfred Portale poached Dover sole after signing his handwritten menus.

Each chef prepared dinner for two tables, with most guests learning their chef upon arrival. Balthazar's Shane McBride whisked a pot of heavy cream that wound up in a dish for Glenn Fuhrman. Joseph Samuels, Ian Linde and Steven Ehrenkranz dined on marinated trout roe and golden tilefish with celery, courtesy of Betony's Bryce Shuman.


The NYSE's Farley sat next to freestyle mogul skier K.C. Oakley for a meal by Ryan Hardy of Charlie Bird and Pasquale Jones. Kent prepared dinner for Mario Batali and Paul Rudd. Rebelle's Daniel Eddy served Roman duck breast and leg with foie gras in puff pastry to Jennifer Carlston, co-founder of the shopping website Covet.
If one needed a break from eating and talking and drinking, Jill Hennessy sang and 12-year-old DJ Fulano spun. Guests could also pose in a photo booth holding rolling pins and spatulas. Part of the story of how the Witts connected to the culinary community is that they are both "OXOnians" -- meaning they've both worked at OXO, the cooking tools manufacturer.

As the night wore on, chefs kept giving: Daniel Kluger donated dinner for 12 at the restaurant he will open in a few months. It sold for $35,000 in the live auction led by Lydia Fenet of Christie's. Dinner by Shane McBride went for $45,000, twice, raising $90,000. And so on, all the way to the cookie jar filled by 14 additional chefs including Christina Tosi of Milk Bar.
Of course Liam liked cookies. What kid (or adult) doesn't? However, Gretchen Witt said there was another message in the name of the organization: "Everyone can be a good cookie."
Before it's here, it's on the Bloomberg Terminal.
LEARN MORE