FIFA Panel Cuts Blatter, Platini Bans by Two Years on Appeal
by
Decision made on eve of FIFA Congress to elect new president

FIFA panel recognizes officials' service to soccer bodies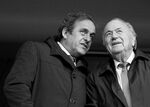 Joseph "Sepp" Blatter, the suspended president of soccer's governing body, lost his final chance to play a role in this week's selection of his replacement at FIFA. The organization upheld bans on Blatter and European soccer head Michel Platini but cut their duration to six years from eight.
Blatter, 79, and Platini, 60, can't participate in any soccer-related events until 2021, the FIFA Appeals Committee said in an e-mailed statement. The panel said it reduced the bans because "some strong mitigating factors for Mr. Platini and Mr. Blatter were not taken into account when establishing the sanction," specifically their service "to FIFA, UEFA and football in general over the years." Platini was fined 80,000 Swiss francs ($81,000) and Blatter 50,000 Swiss francs.
The bans were imposed late last year after Swiss prosecutors opened an investigation into a 2 million Swiss franc payment from Blatter to Platini. Blatter, a Swiss citizen who oversaw FIFA for nearly two decades, and UEFA president Platini, a former star of the French national team, were suspended from all soccer activities Oct. 8 by the global sports body.
Deny Wrongdoing
Blatter and Platini have denied wrongdoing, saying the payment fulfilled an oral contract between the two for services the Frenchman provided to FIFA from 1998 to 2002. The final payment on the contract was made in 2011.
While the last remaining legal option for the men is to appeal Wednesday's decision to the Lausanne, Switzerland-based Court of Arbitration for Sport, those cases are not expected to be heard before Friday's FIFA presidential election.
Platini said in a statement that he will pursue all possible appeal options, starting with the Lausanne court. He called the rejection of his appeal a "shameful" and "insulting" decision that went against the facts of the case and a political move to block his candidacy for president.
"I will fight to the end to prove my innocence, re-establish my rights and establish who is responsible for this cabal," he said.
A spokesman for Blatter didn't immediately return a request for comment.
'Abusive Execution'
FIFA, already grappling with probes by Swiss and U.S. prosecutors into corruption and the award of the 2018 and 2022 World Cups to Russia and Qatar, saw things differently. Both men demonstrated "an abusive execution" of their respective roles, the adjudicatory chamber of FIFA's Ethics Committee said in its December ruling.
Just a few months ago, Platini was widely seen as the frontrunner to replace Blatter. Now it's Gianni Infantino, UEFA's secretary-general, who is one of two favorites for the top job, along with Sheikh Salman Bin Ibrahim Al-Khalifa, president of the Asian Football Confederation.
Blatter has asked for the right to speak at the annual congress this week to address both his legacy and the future of the organization, according to his spokesman Klaus Stoehlker. Terms of the ban, however, mean neither Blatter nor Platini can attend FIFA events. The vote on his replacement will take place Friday.
Before it's here, it's on the Bloomberg Terminal.
LEARN MORE