Viacom's Embattled Chairman Gets Paid Like a Top Performer
by
Mounting debt pressure media giant to sell Paramount stake

Compensation committee members face March 14 re-election vote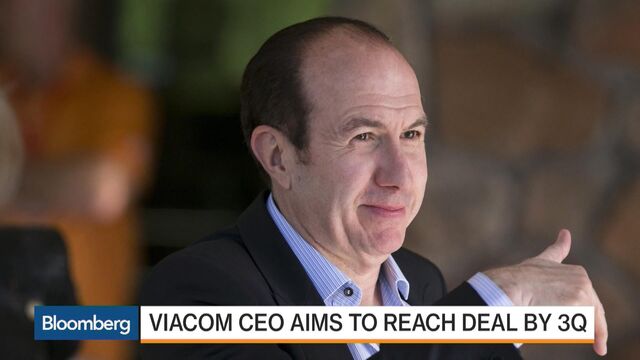 Viacom Inc. is paying Chairman and Chief Executive Officer Philippe Dauman like a top industry performer, even as high debt and sagging stock have pressured the company to seek an investor for its famed Paramount Pictures.
Dauman said Tuesday he'll sell part of Viacom's film division, saying the proceeds would help pay down debt and return cash to shareholders. The announcement lifted the shares even as the broader market was slumping, giving Viacom a boost less than three weeks before the company's March 14 annual meeting in Miami, where board members are up for re-election.

Even in the media industry, where hefty paychecks are commonplace, Dauman's compensation is significant. His pay package topped that of Walt Disney Co.'s Bob Iger, despite Viacom's revenue being a quarter of Disney's. Dauman's pay is also significantly above the awards given to Time Warner Inc.'s Jeff Bewkes and Rupert Murdoch of 21st Century Fox Inc. in 2014, the most recent figures available show.

Viacom's shares slid 44 percent last fiscal year, which ended in September, and its adjusted earnings, revenue and net income dropped at least 3 percent, while Dauman's reported pay rose to $54.2 million. That included a $17 million special award tied to a renewal of his employment agreement.
"The vast majority of Viacom's senior executive compensation is performance- or equity-based, aligning our executives' interests with those of our stockholders," Viacom said in a statement. "Their compensation in 2015 reflects solid financial results in a challenging environment, execution on key operational goals and a return of $2.1 billion to stockholders through stock buybacks and dividends."
Eighty percent of Viacom's voting stock is held by National Amusements Inc., an entity controlled by founder Sumner Redstone, who backed Dauman's promotion to chairman this month. Still, the annual meeting could be a raucous one. Proxy advisers Institutional Shareholder Services Inc. and Glass Lewis & Co. have recommended that investors withhold votes from the five compensation committee members, and a small shareholder, SpringOwl Asset Management, has called for Dauman's ouster. The 20 percent of voting shares held by outside investors could therefore be a referendum, of sorts, on Dauman's leadership.
Board Members
Conflicts of interest among directors and a tendency to award Dauman oversized pay packages in spite of lagging performance are the basis of the proxy advisers' criticism. Three members of the Viacom board -- George Abrams, Shari Redstone and Dauman -- are also members of the Redstone family trust.
The compensation committee members on Viacom's board are Fred Salerno, Blythe McGarvie, Deborah Norville, Charles Phillips Jr. and William Schwartz. All but Norville have been on the board at least eight years. Glass Lewis questioned Norville's independence because she is an anchor of "Inside Edition," which airs on the flagship network of CBS Corp., also controlled by Redstone. Norville referred a request for comment to Viacom.
The company in its proxy statement said the board determined that Norville's work with the network didn't compromise her independence. Dauman also took a lower bonus amount to share with other employees, according to the filing. The compensation committee has retained an independent consultant, Pay Governance, since 2006.
Viacom's debt load -- at 3.2 times earnings before interest, tax, depreciation and amortization -- is slightly above the company's target range and one of the highest among peers. It will probably come down following the sale of a stake in Paramount, since Dauman told investors on Tuesday that proceeds will be used to repay loans. The studio may be worth as much as $5 billion based on recent industry deals, according to Bloomberg Intelligence.
Alternate View
By some other measures, Viacom is actually doing pretty well compared with peers. The company's free-cash-flow yield, a measure of how much cash from operations a business generates relative to its share price, is higher than those commanded by Disney, Time Warner, Fox, CBS and Discovery Communications Inc. Its economic value added -- what's left of its after-tax operating profit minus the cost of capital -- has grown by 21 percent over the past three years while the other companies have all experienced declines, according to data compiled by Bloomberg.
Still, only a minority of analysts see the stock price slump as a buying opportunity. Seventeen of 38 analysts surveyed by Bloomberg recommend buying the stock, with 17 neutral and four saying to sell. Viacom ended 2015 with a price-to-earnings ratio of 8, about 40 percent lower than its closest peer. The shares have fallen another 10 percent since then.
"The company's non-executive directors have an average tenure of roughly 18 years, while the board has only appointed two new directors in the past 8 years," Glass Lewis said in a report published Tuesday. "The company's lagging financial performance further strengthens the case for fresh perspectives at the board level."
Before it's here, it's on the Bloomberg Terminal.
LEARN MORE