Draghi Has Two Weeks to Map ECB Plan That Won't Let You Down
By and
Germany may run short on qualifying debt for QE next year

Expanding the universe of eligible assets won't be simple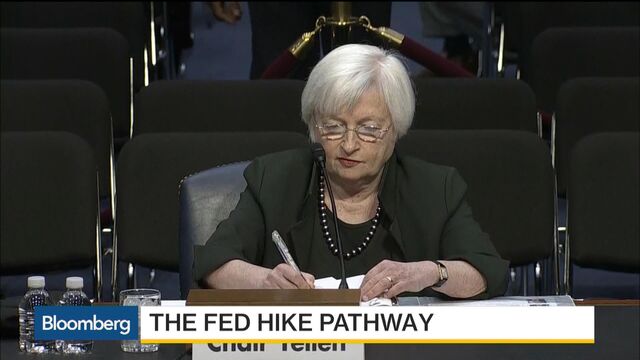 Mario Draghi has two weeks left to decide how to ramp up stimulus in a way that doesn't upset either his colleagues or investors.
When European Central Bank policy makers meet in Frankfurt from March 9-10, they'll consider whether negative interest rates and 60 billion euros ($67 billion) a month of debt purchases is enough to revive consumer prices. With another rate cut priced in by markets, the biggest question mark hangs over how to customize quantitative easing.
The ECB president has said there are no limits to how far policy makers will go within their mandate, yet sub-zero rates carry risks and expanding QE is easier said than done. He'll walk a fine line between convincing investors he can overcome the hurdles and avoiding the market disappointment that greeted the last adjustment in December.
"It'll be very challenging" to increase QE, said James Nixon, an economist at Oxford Economics Ltd., who doesn't expect such a move just yet. "You'd have to sort of throw the rule book out. It might be quite interesting to see whether Draghi, as he tends to do when he's confronted by these situations, pulls another rabbit out of the bag."
Here are the main options and obstacles.
Rate Cut
A cut in the deposit rate of at least 10 basis points from the current minus 0.3 percent is wholly expected by investors, Eonia forwards show.
As that would further squeeze the profitability of lenders, officials may introduce a two-tiered rate or grant higher exemptions for minimum reserves, strategies used by peers such as the Swiss National Bank. ECB Vice President Vitor Constancio said last week officials should "mitigate the effect on banks" of any easing.
More QE
The ECB's accommodative monetary policy has not been supported unanimously by euro-area governors. On Wednesday, Bundesbank President Jens Weidmann said at a press conference that it's "dangerous to simply ignore" long-term risks and side-effects of ECB accommodation.
Now, it may also face practical barriers.
About two-thirds of QE purchases are government and agency debt, with covered bonds and a small proportion of asset-backed securities making up the rest. The Governing Council agreed in December to make regional and local government debt eligible.
National central banks, which make the purchases, buy public-sector bonds issued by their own country. They must stick to debt with a yield higher than the deposit rate and a maturity of 2 years to 30 years, and are limited to 33 percent of any issue, or 25 percent if a blocking minority applies.
The country to watch is Germany. As purchases are effectively linked to the size of the economy, it makes up almost a quarter of QE. Yet of the 51 securities in the Bloomberg Germany Sovereign Bond Index, only 15 meet the rules on yield and maturity, accounting for $379 billion of the $1.1 trillion index.
Under the current plan, Germany may face liquidity constraints between April 2017 and March 2018, according to the Bruegel research institute in Brussels. If monthly QE is increased by 20 billion euros, the nation might run short as early as November. Gianluca Salford, a bond strategist at JPMorgan Chase Bank, estimates the limit under an expanded program may be reached between mid-2017 and autumn next year.
Scrap the Capital Key
To ease the reliance on German debt, the ECB could eliminate the capital key that links buying to economic size. That would allow other countries with more outstanding debt, such as Italy, to buy a greater share.

That strategy might make it look like the ECB is supporting nations that pursued riskier fiscal policies. Worse, it could draw accusations of monetary financing, which is banned under European Union law.
"They chose the capital key for a reason," said Peter Schaffrik, head of European rates strategy at Royal Bank of Canada in London. "Do I think it would make sense to change that from a macroeconomic point of view? Absolutely. Do I think that's the preferred measure and most easily adoptable within the council? I'm not so convinced."
Allowing central banks to buy other nations' public debt would also be a hard sell. It's unlikely a country such as Germany would find it acceptable to buy riskier bonds from elsewhere.
"You've really got to sort of put that in print, write it down, to realize how completely unworkable politically that would be," Nixon said. "It's just a complete non-starter."
Decouple From the Deposit Rate
The ECB could allow purchases of debt even when the yield is lower than the deposit rate. That's tantamount to locking in losses, since the income from the deposit facility wouldn't cover the shortfall on bonds held to maturity.
"For the hawks, that might be an easier sell than shifting away from the capital key," said Stefan Schneider, an economist at Deutsche Bank AG in Frankfurt.
Buy Other Assets
The ECB might expand the asset classes eligible for QE, perhaps adding corporate bonds. The concern is that there may not be enough company debt available. According to Anatoli Annenkov, an economist at Societe Generale SA, "there's quite a lot of liquidity constraint already."
The central bank is even able to buy equities, he said. That would have to be in a "real emergency" because the central bank doesn't want to influence market pricing.
Lift the Issue Limit
In September, the ECB lifted the ceiling on the share of each bond issue banks can buy. It can do so again, but would probably limit itself to securities without collective action clauses, which grant a blocking minority the central bank doesn't want.
"You could be creating market segmentation," Salford said. "If you have some bonds of which the ECB might buy more than others, this could create two different curves."
Leave QE Unchanged
If policy makers are deadlocked, the easiest solution might be to leave QE as it is, relying instead on a steep cut in the deposit rate.
The Governing Council will be wary of disappointing investors though. On Dec. 3, when the rate was cut by 10 basis points and QE extended by six months with the monthly pace left unchanged, the euro soared the most since 2009 and bonds slumped.
"Could they get away with it? Sure," said Carsten Brzeski, chief economist at ING-Diba AG in Frankfurt. "But there probably would be a stronger euro, and maybe the most important part would be a loss of credibility."