Delta Lloyd Bows to Investor Pressure by Narrowing Rights Offer
by
Dutch insurer plans to raise about 650 million euros in offer

Delta Lloyd surges as much as 12 percent in Amsterdam trading
Delta Lloyd NV, the worst-performing stock on the Amsterdam Stock Exchange in the past year, bowed to investor pressure and cut the size of a rights offer to 650 million euros ($715 million).
"Following months of analysis, today's announcement brings clarity to the amount of capital that we need to raise to reposition Delta Lloyd under Solvency II," Chief Executive Officer Hans van der Noordaa said in a statement on Wednesday. "The group is performing strongly and producing good commercial and operational results. Our focus is to further improve our business and capital base."
The Dutch insurer announced in November that it aimed to raise as much as 1 billion euros in a rights offer to bolster capital to meet new regulatory standards. Some of the company's largest shareholders were said to be dissatisfied with the insurer's proposed rights offer and were considering voting against it in a March shareholder meeting, Dutch newspaper NRC Handelsblad reported last month.
Delta Lloyd was up 1.6 percent at 5.15 euros at 12:28 p.m. in Amsterdam, after climbing as much as 12 percent earlier in the session. The shares have dropped about 70 percent in the past year.
'Positive' Tone
"The lower rights issue is clearly positive and will set the tone today," JanWillem Knoll, an analyst at ABN Amro Group NV with a buy rating on the stock, wrote in a note to clients. Lowering the size of the rights issue would imply an uplift of about 15 percent in ABN Amro's target price for the shares, he said.
The Amsterdam-based insurer also reported net income of 128 million euros for 2015, down 65 percent from last year, as swings in interest rates and credit spreads backfired and bonds declined.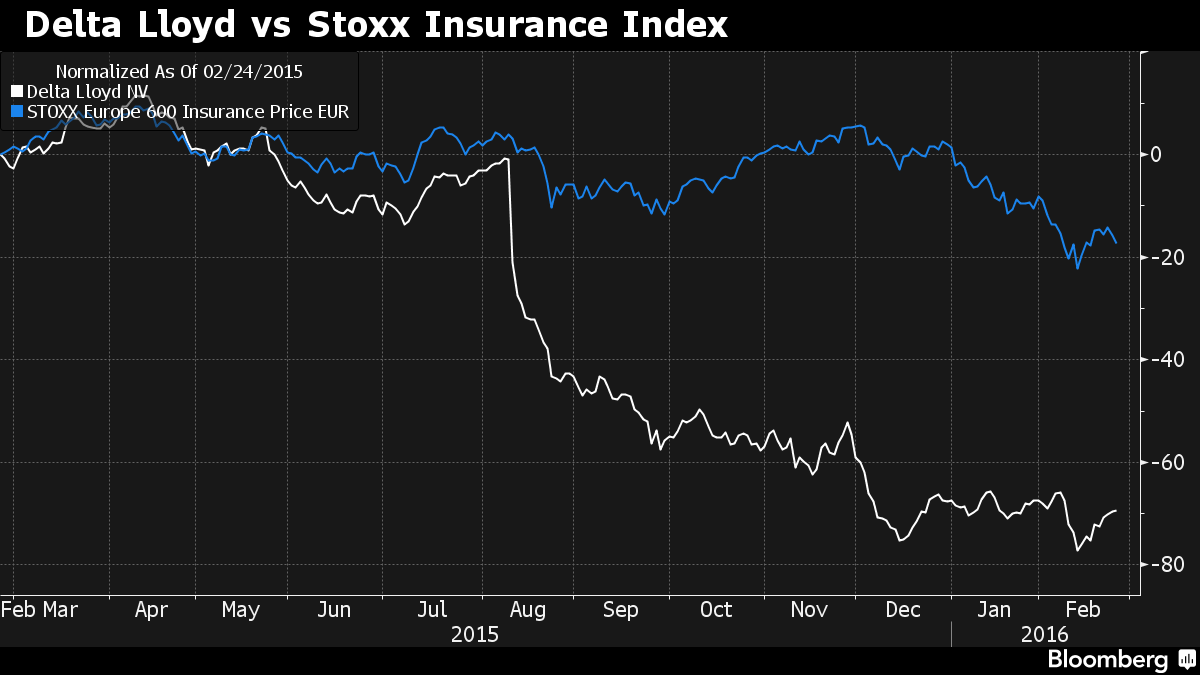 The company has been under pressure to reassure investors as the European Union introduces stricter capital requirements for insurers in January under rules known as Solvency II. Delta Lloyd said its solvency ratio stood at 131 percent in 2015, while the rights offer will raise its solvency ratio to about 140 percent to 180 percent, the company said Wednesday.
Delta Lloyd also announced a plan to sell its 30 percent stake in private bank Van Lanschot NV this year.
The insurer surprised the market in November by opting for the Dutch central bank's standard model for calculating risk under regulations known as Solvency 2. Delta Lloyd announced on Wednesday that it aims to move to a partial internal model by 2018.
"Much discussion today will be on the Solvency 2 ratio. This has fallen to 131 percent and missed our expectation at the end of the year," William Hawkins and Rufus Hone, analysts at Keefe, Bruyette & Woods, said in a note to clients. The shares are "one for the brave still."
Before it's here, it's on the Bloomberg Terminal.
LEARN MORE