Chinese Stocks in Hong Kong Post Steepest Loss in Two Weeks
by
Hong Kong's economy may grow at slowest annual pace since 2012

Shanghai Composite rebounds as utilities, industrials gain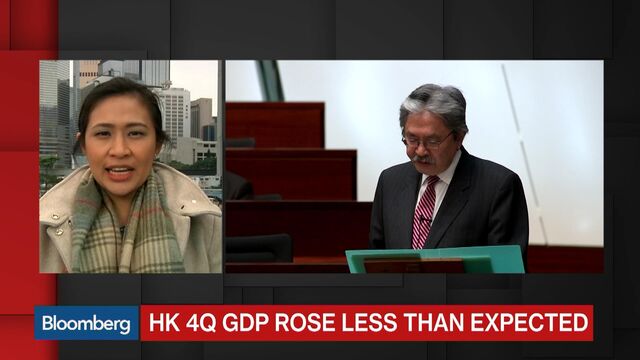 Chinese stocks trading in Hong Kong fell the most in almost two weeks amid lingering concern the nation's economic slowdown will deepen and the yuan may continue to depreciate. Mainland shares advanced.
The Hang Seng China Enterprises Index slid 1.3 percent to 8,061.71 at the close, paced by energy and financial shares. China's slowdown is hurting the tourist trade in Hong Kong, where officials said the city's economy may grow at the lowest annual rate since at least 2012. The yuan weakened for a fourth day before the start of Group of 20 meetings this week. The Shanghai Composite Index rebounded 0.9 percent, led by power producers.
"The overnight tumble in oil prices may have re-ignited bearish positions in energy-related shares in the Chinese and Hong Kong markets," said Bernard Aw, a strategist at IG Asia Pte. in Singapore. "The global risk-off mood could have also added to the downbeat sentiment."
Chinese stocks are among the world's worst performers this year, with the Hang Seng China and Shanghai Composite indexes slumping at least 17 percent with losses trailing only Greek and Italian equities. H-share valuations hit record lows earlier this month as concern over China's economic slowdown and heavy-handed state intervention in mainland financial markets spurred outflows.

HK Economy
PetroChina fell 2.1 percent in Hong Kong, while China Oilfield Services Ltd. dropped 4.1 percent. Ping An Insurance (Group) Co. declined 2.1 percent.
Hong Kong's Hang Seng Index slid 1.2 percent. Tingyi (Cayman Islands) Holding Corp. plunged 6.4 percent, extending losses to 13 percent over the past two days after the noodle maker estimated net profit dropped as much as 40 percent last year.
The city's economy may expand at 1 percent to 2 percent in 2016, slower than the 2.4 percent gain last year, Financial Secretary John Tsang told lawmakers on Wednesday. With fewer Chinese tourists shopping in Hong Kong, the city's retailers have seen sales fall for a second straight year, while home prices have dropped 11 percent since September.
The yuan fell 0.13 percent to 6.5352 per dollar in Shanghai. It has weakened 0.27 percent during the four-day losing streak. The People's Bank of China set its reference rate at the lowest level in almost three weeks after figures from the nation's foreign-exchange regulator released Tuesday afternoon showed banks net sold overseas currencies to their clients for a seventh straight month in January.
G-20, NPC
Officials from the world's largest economies are gathering in Shanghai this week for the G-20 meetings. The need to refrain from competitive devaluations may take on extra importance as a topic as China struggles to manage its slowdown with the risk of another currency devaluation lurking.
The CSI 300 Index erased earlier losses, rising 0.7 percent as measures tracking utilities and industrial companies gained at least 1.6 percent. Huaneng Power International Inc., the biggest power producer, jumped 3.4 percent. Lower coal prices could boost margins at coal-fired power plants owned by China's listed power generators, with Huaneng among companies standing to benefit, according to Bloomberg Intelligence analysts.
Infrastructure-related companies rallied after Premier Li Keqiang was cited by China National Radio as promoting urbanization in order to achieve medium- to high-speed economic growth. Ningbo Port Co. surged 3.6 percent, while Shanghai Construction Group Co. rallied 4.3 percent.
The Shanghai Composite has rebounded 10 percent since last month's low as the government steps up policy support ahead of the annual National People's Congress, where delegates will sign off on a new five-year economic plan. The index has fallen by an average 1.1 percent during the NPC and the Chinese People's Political Consultative Conference sessions from 2002 through 2015, according to data compiled by Bloomberg.
Before it's here, it's on the Bloomberg Terminal.
LEARN MORE