Cunliffe Says Bank of England Must Be Ready to Tackle Risks
by
Deputy Governor says central bank has the tools necessary

Says surveys don't suggest pay growth recovery is coming soon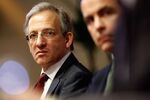 Bank of England Deputy Governor for Financial Stability Jon Cunliffe said risks to the U.K. outlook have increased and policy makers must be ready to act if needed.
In a speech in London, Cunliffe said the global and domestic expansion has been weaker than he expected, pay growth will probably remain subdued and "deeper structural factors" may be at work. Still, his central view is for the U.K. economy to continue to grow "solidly" and for inflation to return to the BOE's 2 percent target in the next few years.
"As always, policy makers need to be alive to the possible meaning of disappointments, to be very sensitive to the possibility of changing temperatures around them, and to the risk of unfortunate events," Cunliffe said in his speech at London South Bank University on Wednesday. "We have a range of tools at our disposal and should be ready to use them whichever risk materializes."
With inflation near zero and the outlook for the international economy muddied, the upcoming referendum on Britain's European Union membership is creating more uncertainty. Economists in a Bloomberg survey said the probability of a recession triples in the event of a vote to leave the bloc.
Cunliffe's comments align him with Governor Mark Carney, who said on Tuesday that officials could cut interest rates or expand quantitative easing if needed. Fellow official Gertjan Vlieghe said downside surprises would prompt him to consider voting for a lower benchmarkrate.
Increasing Uncertainty
With polls too close to call on the outcome of the June 23 EU vote, the BOE has said it's watching for signs of a hit to consumer and business confidence. Still, policy makers won't try and forecast the outcome or the possible impact, and will maintain monetary and financial stability whatever the result, Cunliffe said.
International threats have increased amid concern that China's economy is slowing, he said.
"I will be looking very carefully at the risks of another unfortunate event for the U.K. economy from a hard landing elsewhere in the world," he said. "If economic growth falters and pay and productivity remain stuck at current levels then the healing story will become increasingly less convincing."
The deputy governor said that while there are continued signs of strength in the U.K. -- including consumer confidence, investment intentions, credit growth -- "some things have still not improved as we had hoped." That includes pay growth, which has fallen back in recent months despite a tighter labor market.
"Forward-looking surveys do not suggest any significant recovery in pay growth is around the corner," he said. "Unit-labor costs have picked up a bit over the last year. The picture is not completely consistent across different measures but most measures are subdued or expected to fall in the near term."
Low Inflation
Cunliffe offered several reasons for the weakness in wages, including workers not yet feeling confident enough in the recovery to ask for an increase, low inflation restraining pay awards, structural factors and migration.
The BOE has put the lack of wage pressures at the center of their decision on when to lift interest rates from the current record low 0.5 percent. The benchmark rate has been on hold for almost seven years and the market-yield curve shows a 25 basis-point increase is not priced in until 2019.
Last week, Cunliffe pushed back against market pricing for no U.K. interest-rate increase until 2019, saying that isn't his central view. He reiterated that stance on Wednesday.
"It is difficult to identify any really major economic news in 2016 that might underlie this," he said. "Rather it may be that markets are shifting to a new perception of the world economy and risks, and of policy-makers' ability to respond to future challenges."
Before it's here, it's on the Bloomberg Terminal.
LEARN MORE