Photographer: Punit Paranjpe/AFP via Getty Images
Oldest Asian Railway Looks Past Fares for $124 Billion Revamp
By
That's the amount India wants to invest in rail modernization

Network plans up to a fifth of revenue from non-tariff sources
India signaled the solution to finding the $124 billion needed to modernize its congested railway includes carrying more types of cargo and generating revenues from land holdings.
Railway Minister Suresh Prabhu outlined the strategy in his annual budget speech for the network on Thursday, saying the target is to earn as much as 20 percent of revenue from non-tariff sources in five years. The plan to expand the basket of freight comes amid a slump in the price of commodities, such as coal, the railroad typically ferries.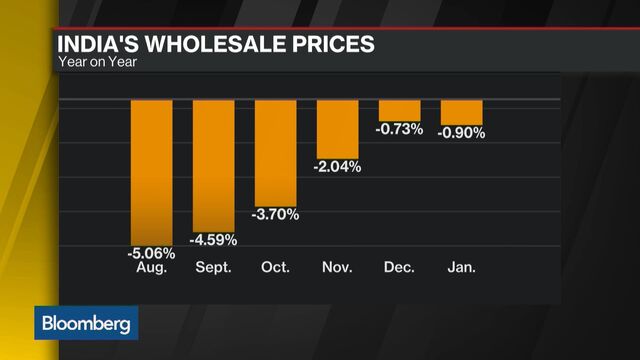 Here are some of the highlights from Prabhu's speech:
No passenger-fare increase to keep costs down for the poor
Explore options for land, such as using some to generate solar power
Market borrowing of about 200 billion rupees in the year starting April 1
Considering possibilities for international and multilateral funding
To set up special purpose vehicles to implement high-speed train projects
India's railway is the fourth-largest in the world and carries about as many passengers daily as Australia's population. Less impressive is the state of the network, which is in parts both congested and aging with roots back to British colonial rule. 
As a result, Prime Minister Narendra Modi wants to spend 8.5 trillion rupees ($124 billion) through 2020 on new tracks, India's first bullet trains and modern stations. The unanswered question for companies such as General Electric Co. and Alstom SA, which are hoping to gain from the revamp, is where all the money will come from.
Three charts illustrate the scale of the modernization task he faces.

Indian Railways employs 1.3 million people and carries 23 million people daily on about 65,000 kilometers of often congested track. Sometimes, trains have slowed to walking pace. The sheer scale is daunting.

A looming wage increase of 320 billion rupees makes the task of funding investment even tougher -- the network already spends most of its revenues on operating costs. The pay revision comes once-in-a-decade for government employees.

The outlay India is targeting exceeds the annual gross domestic product of many national economies. The railways may seek to sell land, export trains to Asia and Africa and sell advertising space while curbing costs, to cope with the wage burden and find funds for investment, people familiar with the matter said last month.
"We have achieved significant progress in all aspects of this transformation, from scale to speed, from cleanliness to efficiency to resource mobilization," Prabhu said at the end of his speech. "We still have a long way to go. But the important thing is that we have a strong intent and the will to achieve our objectives."