'Brexit' Risk Widens Chasm Between Pound, Inflation Volatilities: Analysis
Sterling inflation option cap premiums may rise from trough if currency weakness persists
by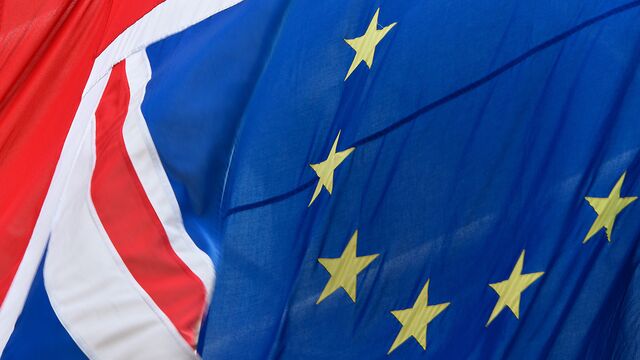 Growing tail risk of Brexit could resurrect GBP inflation volatilities as the cost of protecting against pound's downside surges. Lure of relative value could push up inflation premiums from trough, Bloomberg strategist Tanvir Sandhu writes.
GBP inflation option premiums have stayed extremely low as the open economy makes realized inflation sensitive to external deflationary forces, weighing on volatilities.
Relative strength of the sterling trade-weighted index (TWI) and decline in oil prices have together kept inflation depressed.

The premium demanded to bet the Retail Price Index will rise to 2 percent in 2 years is at 84 basis points, well below the 5-year average of 207 basis points, amid global disinflationary pressures.
But any perception sterling weakness may persist due to increased odds of the U.K. leaving the European Union, and consequently a possible shakeup in the political landscape, could push up price pressures in the economy.
Low inflation volatilities contrast with high cost of betting against a fall in sterling.
The premium for six-month options to buy the pound versus the euro over contracts to sell has risen to 2.33 percentage points, the highest since January 2009, risk-reversal prices compiled by Bloomberg show.
Depreciation of sterling TWI has a lagged effect on inflation options pricing. Euro has a 65.6 percent weighting in the index.
Increased Brexit risks could slow capital inflows, crucial for funding U.K.'s current account deficit, further accentuating sterling's weakness and spurring prices higher further down the line.
Note: Tanvir Sandhu is a cross-asset derivatives market strategist who writes for Bloomberg. The observations he makes are his own and are not intended as investment advice.
Before it's here, it's on the Bloomberg Terminal.
LEARN MORE