Why Sony Music Can't Easily Cancel Kesha's Contract
The law is pretty clear, but the public relations problem is complicated.
By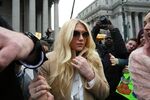 After a New York judge refused to release pop star Kesha Sebert from a recording contract with producer Lukasz "Dr. Luke" Gottwald, a quarter-million fans signed a petition calling for a boycott of Sony Music Entertainment Inc. And while the ruling last week was a setback for the singer, it wasn't that great for Sony, either.

Sebert, 28, who in 2014 sued Gottwald for sexual assault, has received an outpouring of support on social media, where the #FreeKesha hashtag was trending nationally, Grammy winner Taylor Swift offered $250,000 for her legal bills, and rapper Snoop Dogg's encouragement on Twitter got 10,000 retweets. As it turns out, though, Sebert's link to Sony Music, as with many commercial agreements, involves more than two parties. Regardless of the public outcry and the mounting public relations disaster for Sony Music, the entertainment giant can't unilaterally cancel her contract. It's also up to Gottwald.