Viacom Approached by Investors for Paramount Pictures Stake
by , , and
Media giant hires PJT Partners to help with discussions

CEO Dauman aims to reach agreement on deal by end of June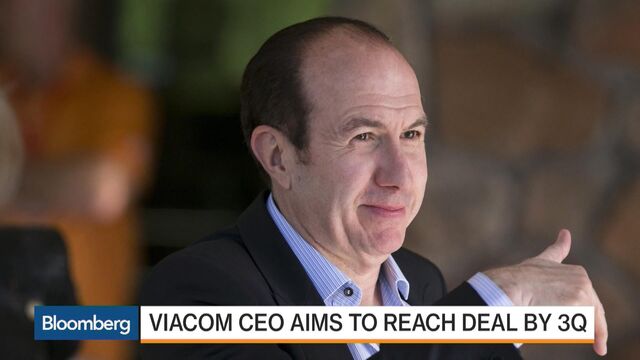 Viacom Inc., under fire over its declining stock price, is exploring the sale of a stake in Paramount Pictures after being approached by potential investors.
The company has hired PJT Partners to help with discussions toward a possible transaction, Chief Executive Officer Philippe Dauman said Tuesday at an investor conference. Viacom aims to reach an agreement by the end of June, he said.
"Pursuing a transaction with someone who would take a minority equity interest would be of great benefit strategically and financially to Paramount and Viacom," Dauman said at the Jefferies Group LLC conference.
Viacom's stock has been in a nosedive as the company struggles to boost box office returns at Paramount and TV ratings in the cable unit, which owns MTV and Comedy Central. Paramount ranked last among the six largest film studios in 2015, with its U.S. market share under 6 percent, less than a third of leader Universal Studios. In the fiscal first quarter, which ended in December, the company didn't have hits to match the prior year's blockbuster "Teenage Mutant Ninja Turtles."
Viacom shares jumped as much as 7 percent on Dauman's comments, reversing an earlier decline. They were up 1.5 percent to $37.42 at 2:14 p.m. in New York.
Potential Suitors
The studio could be worth more than $10 billion, Stifel Financial Corp. analyst Benjamin Mogil said in a research note after Dauman's announcement Tuesday. Investors in a minority stake are likely to be from China, given the country's global entertainment ambitions, or from India, according to Mogil. "We would not expect any domestic or European suitors," he said.
Billionaire Wang Jianlin's Dalian Wanda Group Co. has already shown an interest in U.S. film production, agreeing earlier this year to acquire "Jurassic World" producer Legendary Entertainment for $3.5 billion. Billionaire Jack Ma's Alibaba Group Holding Ltd. invested in Paramount's "Mission: Impossible-Rogue Nation."
"A third-quarter close would be a very tight time frame and suggests that Viacom may have already received inquiries from interested parties," Bloomberg Intelligence analyst Paul Sweeney said in an e-mail Tuesday.
Other companies, such as Apple Inc. and Amazon.com Inc., could be interested in a full takeover of Paramount, Sweeney and Geetha Ranganathan said this week in a research note. Billionaire John Malone, who has pushed for media industry consolidation, could orchestrate a deal via Lions Gate Entertainment Corp., they added.
Apple is unlikely to do such a deal because it would rather be a partner with a wide number of content providers, said Gene Munster, an analyst at Piper Jaffray Cos.
Sales from Viacom's filmed entertainment division fell 47.4 percent between 2009 and 2015, while operating income dropped 49.3 percent to $111 million. The film studio drew $3.6 billion in average annual sales over the past three years, according to a Bloomberg Intelligence analysis.
Dauman, who became Viacom's chairman this month when Redstone, 92, stepped down, told analysts this month that Paramount was entering a rebuilding process with its pipeline of movies improving. Viacom will release 15 movies this year, including a new "Star Trek" film.
Mario Gabelli, the second-largest investor in Viacom's voting shares, broached the idea of the sale of a minority stake in Paramount in an interview with Bloomberg News in December. Gabelli, the chairman of Rye, New York-based Gamco Investors Inc., suggested Alibaba as a possible investor.
"It would be opportunistic to build up their creative content," Gabelli said. "Distribution is important, but content is king."
Rare Deals
Sales of major film studios are rare. Billionaire Kirk Kerkorian sold Metro-Goldwyn-Mayer Inc. to a consortium that included Sony Corp. for $5 billion in 2005. That business later went through a bankruptcy court restructuring.
Paramount itself was acquired by Viacom for $10 billion in 1994 after a protracted bidding war. The company, then called Paramount Communications, had other assets such as Madison Square Garden and the New York Knicks basketball team, which were later sold.
The studio, founded in 1912 as the Famous Players Film Company, has released films such as "The Godfather," "Beverly Hills Cop" and the Indiana Jones series. After leading all studios in market share in 2011, Chief Executive Officer Brad Grey reduced the studio's output in recent years, releasing fewer movies than other major studios.
Paramount revived its TV studio in 2013, dormant since Paramount TV was folded into CBS when Redstone split Viacom and CBS in 2006. The studio, run by Amy Powell, produced a live version of the musical "Grease" for Fox and is making a series for Nickelodeon based on the movie "School of Rock."
Before it's here, it's on the Bloomberg Terminal.
LEARN MORE