Valeant to Restate Earnings Related to Pharmacy; Shares Gain
by and
Stock rebounds 4.4% on Tuesday after two days of declines

Company says it will hold fourth-quarter call on Feb. 29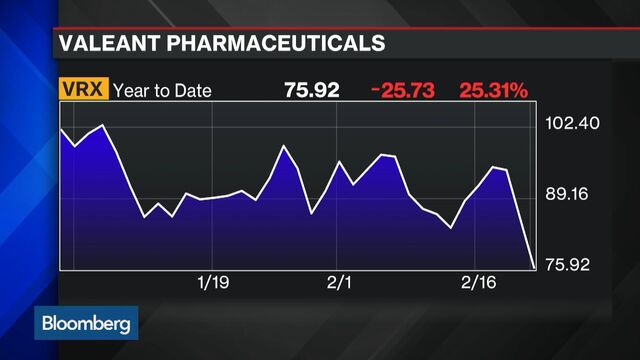 Valeant Pharmaceuticals International Inc. will restate some of its past earnings after a board committee reviewed the U.S. drugmaker's relationship with a mail-order pharmacy.
The shares rose 4.4 percent to $79.27 at the New York close on Tuesday, rebounding after a 19 percent decline over the previous two sessions.
The restatement deals with results from 2014 and 2015, when about $58 million in revenue recognized in 2014 should have been booked in subsequent periods, Valeant said Monday in a statement. Correcting the misstatements is expected to reduce per-share earnings in 2014 by about 10 cents and increase them in 2015 by 9 cents a share, it said.
"The company has preliminarily identified certain sales to Philidor during 2014, prior to Valeant's entry into an option to acquire Philidor, that should have been recognized when product was dispensed to patients rather than on delivery to Philidor," the company said. Last year, it began incorporating Philidor's financials into its own.
Valeant didn't rule out further disclosures. It's delaying filing an annual report, and said it's making an "ongoing assessment of the impact on financial reporting and internal controls." The drugmaker plans to hold a call to discuss fourth-quarter results on Feb. 29.

"We remain committed to improving reporting procedures, internal controls and transparency for our investors," interim Chief Executive Officer Howard Schiller said in the statement.
Analysts Split
Analysts were split on the news. Alex Arfaei, an analyst with BMO Capital Markets, said that while the restatement was small in terms of the actual amount, it showed that Philidor was highly profitable for Valeant and will be difficult to replace.
"Moreover, unfortunately, we believe that these types of issues will continue to undermine investor confidence at a time when it is still fragile," Arfaei said in a note to clients. "The shorts continue to circle Valeant, and buyers simply do not seem to have enough confidence to step in." He has a market perform rating on the stock.
Douglas Miehm, an analyst with RBC Capital Markets, disagreed. "The weakness is overdone," he said Tuesday in a note to clients. "We do not believe that further significant operational concern is warranted." He rates the stock outperform.
Valeant faced questions over its relationship with Philidor last year, including accusations of accounting fraud from short-seller Citron Research. The drugmaker eventually revealed that it had paid $100 million for an option to buy Philidor for nothing at any time during the next 10 years, and consolidated Philidor's financial results into its own.
Board Committee
Valeant denied any wrongdoing with its accounting, though it set up the committee on Oct. 26 to review the Philidor relationship. The committee has been run by lead independent director Robert Ingram, and includes directors Mason Morfit, president of ValueAct Capital; Norma Provencio, head of the board's audit committee; and Colleen Goggins, a former Johnson & Johnson executive.
Valeant Chief Executive Officer Mike Pearson has been out on medical leave since December. The company has been run in the meantime by Schiller, who served as chief financial officer from 2011 to June 2015.
In the last three years for which Valeant has filed proxy statements, the CEO received cash bonuses totaling $16.6 million -- including $8 million in 2014 -- that were partly tied to revenue and cash earnings-per-share targets.
Valeant instituted a clawback policy in 2014 that allows it to recoup incentive compensation if the company adjusts its financial statements and an executive is found to have known about or participated in fraudulent or illegal conduct. Pay could be recouped if "the restatement occurs within three years of the relevant period," according to the company's policy. A clawback would be at the board's discretion.
Past Comments
Valeant, in the past, stood by its accounting of the relationship with Philidor. "The audit committee of the board and the full board have reviewed the company's accounting with the Philidor relationship and have confirmed the appropriateness of the company's revenue recognition and accounting treatment," Bob Ingram, interim board chairman, said on an Oct. 26 conference call. Robert Rosiello, Valeant's chief financial officer, said on the same call that the accounting practices were appropriate.
On Monday, Ingram said the board committee had made "substantial progress" in its inquiry. "We believe this correction is an important step forward," he said in the statement, and that the company is "working to restore confidence among investors and Valeant's other constituencies."
Before it's here, it's on the Bloomberg Terminal.
LEARN MORE