U.S. Stocks Slip From 6-Week High as Recent Rally Leaders Falter
by and
Banks retreat from highest since Feb. 4; Energy falls with oil

Pace of China's growth remains a sore spot for investors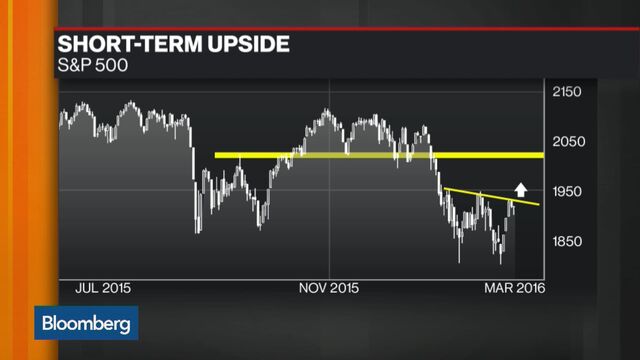 U.S. stocks declined from six-week highs, paced by banks as the recent rally's strongest performers lost momentum while investors assessed global growth prospects amid renewed concern that China will remain a drag.
Lenders, which have buttressed the latest rebound in equities, fell Tuesday with JPMorgan Chase & Co. and Citigroup Inc. losing at least 3.2 percent. Freeport-McMoRan Inc. declined 8.7 percent and Chevron Corp. sank 4.4 percent as a rout in crude oil weighed on commodity shares. Apple Inc. and Microsoft Corp. fell more than 2.2 percent, dragging down the technology group.
The Standard & Poor's 500 Index fell 1.3 percent to 1,921.27 at 4 p.m. in New York, a day after surging 1.5 percent to the highest since Jan. 6. The Dow Jones Industrial Average slid 188.88 points, or 1.1 percent, to 16,431.78. The Nasdaq Composite Index lost 1.5 percent. About 7.1 billion shares traded hands on U.S. exchanges, 13 percent below the three-month average.
"Things started to go downhill a little bit last night after the PBOC decided to allow the yuan to depreciate relative to the dollar," said Brian Jacobsen, chief portfolio strategist with Wells Fargo Funds Management LLC, which oversees $242 billion. "We need to get a bit more clarity from Fed officials as far as how they're viewing China to get a better handle on what the global growth outlook looks like and also what the future path of U.S. interest rates looks like."

A global stock rally stumbled today after the People's Bank of China lowered its daily reference rate for the yuan by the most in six weeks, reigniting concerns over the health of the world's second-biggest economy. This anxiety had eased in the past week, helping the S&P 500 cut its 2016 decline in half in six trading sessions.
Oil retreated from a two-week high as Saudi Arabian Oil Minister Ali al-Naimi said the market should set prices in his first speech since an agreement with Russia last week to freeze output. Saudi Arabia won't cut oil production as other countries would be unlikely to assist in restraining output, leaving the burden of adjusting supply with high-cost producers, the minister said. West Texas Intermediate crude futures fell 4.6 percent.
Heading into Tuesday's session, the S&P 500 had rallied 6.4 percent since reaching a 22-month low on Feb. 11, trimming its 2016 decline to less than 5 percent. Concern that weakness in China will damp global growth, and that lenders will suffer as some energy producers struggle to stay solvent amid low oil prices has weighed on equities this year. The main U.S. stocks benchmark closed 9.8 percent below its all-time high reached last May.
"The global economy is mired in what I would think of as growth purgatory and this week's economic data is an illustration of that," said Michael Arone, the Boston-based chief investment strategist at State Street Global Advisors' U.S. intermediary business. The firm oversees $2 trillion. "Despite the recent rally off of the early February lows, it's way too early to sound the all-clear."
Data Watch
Economic data today were mixed as investors attempt to gauge the strength of U.S. growth, and the potential path for interest rates. A report showed sales of previously owned homes unexpectedly rose in January to the second-highest pace since early 2007. Separate data showed February consumer confidence decreased, while another report indicated home values steadied in the year ended December, putting residential real estate on healthier footing to contribute to the economic expansion.
The Chicago Board Options Exchange Volatility Index rose 8.3 percent today to 20.98, the largest increase in two weeks. The measure of market turbulence known as the VIX closed yesterday at the lowest since Jan. 5 amid the longest streak of declines in four months.
Nine of the S&P 500's 10 main groups declined on Tuesday, with energy and raw-materials the worst performers as they lost at least 2.3 percent. Financial and technology shares dropped 1.8 percent. Utilities and consumer staples were little changed.
The selloff in oil dragged energy producers to the steepest loss in three weeks, as all 41 members of the benchmark's group retreated. Cabot Oil & Gas Corp. tumbled 11 percent, the most in four years, after the explorer increased the size of its secondary offering to 44 million shares. Consol Energy Inc. and Range Resources Corp. both fell at least 9 percent.
Materials Sink
Raw-materials companies in the benchmark dropped 2.4 percent, the biggest slide in two weeks. Ecolab Inc. tumbled 7.4 percent, the most since 2011, after the company reported quarterly results that missed analysts' estimates. Alcoa Inc. decreased 4.3 percent following its strongest one-day advance in nearly seven years.
Banks had their biggest drop since the S&P 500's 22-month low on Feb. 11. JPMorgan lost 4.2 percent after saying today at a gathering of analysts and investors that it plans to set aside $1.65 billion to cover impaired loans to energy and mining companies. Its investment bank has also seen revenue from sales and trading fall about 20 percent so far in 2016 from a year earlier.
Comerica Inc., the strongest performer among lenders during the prior six sessions with a nearly 15 percent climb, fell the most today, down 4.5 percent. Among the broader financials, Goldman Sachs Group Inc. slid 2.6 percent and Morgan Stanley dropped 3.4 percent.
Western Digital
Western Digital Inc. declined 7.2 percent, the worst among tech shares, after the company said it will buy memory-chipmaker SanDisk Corp. for $15.8 billion in cash and stock. Western is going ahead with the merger without a $3.78 billion infusion from Tsinghua Unisplendour Corp. The Chinese company pulled out of its plan to buy a stake in the computer-storage manufacturer after the deal came under scrutiny by U.S. regulators. SanDisk slipped 1.6 percent.
Better-than-expected earnings helped propel several stocks higher. Frontier Communications Corp. rose 13 percent, the most since July 2014, while Motorola Solutions Inc. gained 6 percent, the steepest climb since August. Macy's Inc. rallied 3 percent to levels last seen in November. Texas Roadhouse Inc. surged 13 percent to an all-time high after its profit beat estimates, and the restaurant chain said lower beef prices would help 2016 performance.
With the earnings season approaching an end, about three-quarters of S&P 500 firms exceeded profit projections, while less than half have topped sales forecasts. Retailers Target Corp., Lowe's Cos., Kohl's Corp. and Gap Inc. are due to report this week. Analysts estimate earnings at S&P 500 companies fell 4.2 percent in the fourth quarter, compared with Jan. 15 predictions for a 7 percent slump.
Before it's here, it's on the Bloomberg Terminal.
LEARN MORE