Trudeau Drops Campaign Promises and Goes All In With Deficits
By and
Liberals cut loose all three fiscal anchors ahead of budget

Pollster sees bid to 'front load as much bad news as possible'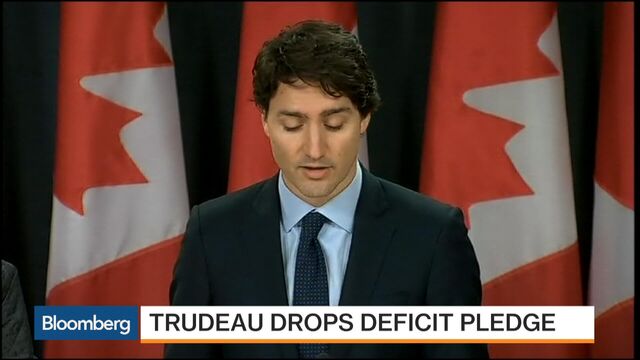 In for a penny, in for a pound.
With falling oil prices eroding Canada's revenue base, newly elected Prime Minister Justin Trudeau is fully embracing deficits, with his finance minister hinting Monday the country will run a deficit of about C$30 billion ($22 billion) in the fiscal year that starts April 1.
It's one of the biggest fiscal swings in the country's history that, in just four months since the Oct. 19 election, has cut loose all the fiscal anchors Trudeau pledged to abide by even as he runs deficits. The government's bet is that appetite for more infrastructure spending and a post-election political honeymoon will trump criticism over borrowing and unmet campaign promises.
"It looks like the Liberals want to front load as much bad news as possible in the hope when the election occurs in four years things will be better," said Nik Nanos, an Ottawa-based pollster with Nanos Research Group.
Trudeau swept to power in part by promising to put an end to an era of fiscal consolidation the Liberals claimed was undermining Canada's growth, which has been lackluster since the recession in 2009. Still, he has tried to temper worries by laying out three main fiscal promises: annual deficits of no more than C$10 billion, balancing the budget in four years and reducing the debt-to-GDP ratio every year.
Anchors Aweigh
On Monday, Finance Minister Bill Morneau indicated none of those three promises will be met. A fiscal update -- released a month before the government's first budget is due -- showed Canada's deficit in the year that begins April 1 is on pace to be C$18.4 billion, even before the bulk of the government's C$11 billion in spending promises and any other stimulus measures are accounted for.
The same document shows the nation's debt-to-GDP ratio will be rising in the coming fiscal year, not falling. Morneau also reiterated that balancing the budget in the near term would be "difficult."
"They're trying to justify breaking a campaign promise by somehow suggesting it's not their fault," Rona Ambrose, leader of the main opposition Conservative Party, told reporters in Ottawa.
Cuts or Spending?
The government argues that reining in spending now would be even worse for the economy.
"I am happy to talk about campaign promises," Trudeau told lawmakers in Ottawa, citing his pledge to strengthen employment insurance, boost investments and help middle-class families.
To be sure, the worsening fiscal outlook is hardly deleterious for Canada. The nation will continue to be the least indebted country in the Group of Seven and holds a stable AAA rating from Standard & Poor's, Moody's Investors Service and Fitch Ratings. The Bank of Canada, and other economists, have been making a case for more fiscal expansion given borrowing costs are at historic lows.
"It's important to point out this is not an '80s, '90s-style deficit interest rate spiral," said Kevin Milligan, an economics professor at the University of British Columbia who advised Trudeau on his election platform.
Market Impact
Markets barely budged. The Canadian dollar was little changed after the report, gaining 0.4 percent for the day. Yields on government 10-year bonds rose 1 basis point to 1.13 percent, while the Standard & Poor's/TSX Composite Index climbed 0.4 percent.
Yet, there are also calls for caution. The fiscal swing is one of the largest since the Great Depression. A C$30 billion deficit would be 1.5 percent of GDP. That's a swing of 1.4 points, from an expected deficit of 0.1 percent of GDP in the current year. Since the end of World War II, there have been only four one-year expansionary fiscal swings of more than 1.4 percentage points of GDP.
A growing debt-to-GDP ratio at a time of economic growth "does set off a warning bell, so the question is what are you going to do about it?" Milligan said.