St. Louis Fed: Financial Markets Are Saying Oil Will Be Worthless by mid-2019
Beware market-based measures of inflation expectations.
by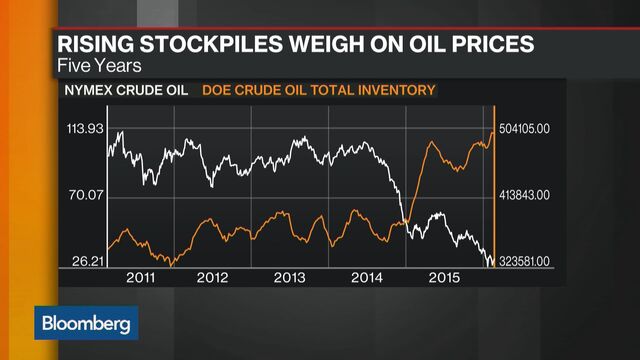 The Federal Reserve has insisted that the forces keeping inflation from target are temporary. Financial markets seem to disagree.
St. Louis Fed President James Bullard has been particularly worried about what the market is telling him about future inflation.
"I regard it as unwise to continue a normalization strategy in an environment of declining market-based inflation expectations," he said in a Feb. 17 speech.
One can track inflation expectations via surveys or by tracking breakeven inflation rates derived from the difference between yields on standard U.S. Treasuries and Treasury Inflation-Protected Securities. Empirical evidence, however, suggests that market-implied inflation rates have an abysmal track record in terms of forecasting realized inflation.
Researchers at Bullard's own regional bank have published a blog post that further undercuts the rationale for paying much attention to these market-based measures of inflation expectations.
St. Louis Fed Economist Alejandro Badel and Research Associate Joseph McGillicuddy point out something that hasn't escaped the attention of other market participants: the fall in breakeven inflation rates has occurred in tandem with dropping oil prices.
It is difficult to see the logic in a relationship between the level of oil prices and the market-implied rate of change of prices for a basket of consumer goods and services years down the road. The speed at which oil has tumbled makes the decline in breakeven inflation rates even more befuddling, as it has partially eroded the scope for large-scale declines in the future. However, this relationship has persisted nonetheless.
To this end, Badel and McGillicuddy sought to identify just how low of oil prices is being implied by the collapse in market-based measures of inflation compensation.
"If the fall in breakeven inflation rates reflects a fall in actual inflation expectations, and assuming this fall is largely driven by a fall in oil price expectations, then we can ask the following question: How low would future oil prices have to fall to validate current breakeven inflation rates?" they wrote.
Badel and McGillicuddy then sought to essentially reverse-engineer the oil price consistent with current market-based measures of inflation expectations.
Here's a visual representation of their main finding:

The pair explained:
According to our calculations, oil prices would need to fall to $0 per barrel by mid-2019 in order to validate current inflation expectations. After that, there is no oil price that would allow our model to predict a CPI path consistent with December 2015 breakeven inflation expectations. This implied path of oil prices is very different from the path of oil prices implied by futures contracts, which rises to more than $50 per barrel by mid-2019.
Their crude analysis assumes that, among other things, the weighting of the components in the Consumer Price Index baskets does not change, and excluding energy, the growth rate of other components of CPI stays at 2.87 percent over the forecast horizon. These assumptions made are largely unrealistic—particularly keeping the weight of the components unchanged amid a continued relative price decline.
However, this exercise is still useful in showing the extent to which a supposedly transitory downward pressure on inflation appears to be influencing market-based measures of inflation compensation more broadly as well as the dangers of treating market-inferred probabilities and pricing as gospel.
Before it's here, it's on the Bloomberg Terminal.
LEARN MORE