Sports Authority Is Now Technically in Default, Moody's Says
by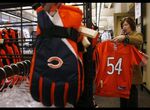 Sports Authority Inc. was downgraded by Moody's Investors Service, which said the struggling retailer of athletic gear now meets its definition of being in default.
Moody's lowered Sports Authority to Ca-PD/LD, which means the chain is at least in limited default. The credit-rating firm took the step after Sports Authority missed a Jan. 15 interest payment on its senior subordinated notes and failed to make the payment during a 30-day grace period.
"The missed interest payment constitutes a default under Moody's definition," analyst Michael Zuccaro said in the report.
The retailer, once the biggest sporting-goods chain in the U.S., has been holding talks with lenders such as TPG Capital Management LP on a deal to reorganize in Chapter 11 bankruptcy proceedings, Bloomberg reported earlier this month. It also has been mapping out a plan to close as many as 200 of its more than 450 stores under the bankruptcy plan, people familiar with the situation said.
Moody's also cut its rating on Sports Authority's $300 million senior secured term loan due November 2017 by one level to Ca, the second-lowest rating, from Caa3. The firm continues to have a negative outlook on the retailer.
Cash Crunch
"Sports Authority's liquidity is weak, reflecting the need to address debt maturities that begin in 2017," Zuccaro said. "The negative outlook reflects Moody's view that the company may have difficulty refinancing its debt without restructuring or impairment to lenders."
The retailer, which has at least $643 million in debt, has lost ground to companies ranging from Dick's Sporting Goods Inc. to Lululemon Athletica Inc. Sports Authority was bought by a group led by private equity firm Leonard Green & Partners LP for $1.3 billion in 2006.
A heavy debt load and inconsistent execution over the years have hampered the company, especially as a host of new competitors looms, Zuccaro said in an interview after the report was published. The rivals include department stores and manufacturers' own outlets, such as Nike stores.
Still, Sports Authority is a well-known name and a major competitor, he said. That should give it life after a possible bankruptcy.
"We still view it as a viable brand," he said.
Before it's here, it's on the Bloomberg Terminal.
LEARN MORE