Robots Reading Trader Chats to Stop Next Wave of Bank Fines
by
Nasdaq is partnering with technology firm Digital Reasoning

Banks are largely unable to monitor calls, says Fonetic CEO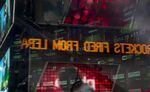 Robots are automating yet another bank job: the task of sifting through traders' messages to spot foul play, a process currently carried out by legions of human employees.
Nasdaq Inc. is partnering with a company called Digital Reasoning to combine its trade-surveillance software with Digital's system for monitoring trader chats and messages. UBS Group AG uses the technology, according to a Nasdaq statement on Tuesday. Bloomberg LP, the parent of Bloomberg News, also offers clients tools for communications surveillance.
While banks slimmed down their trading operations in the aftermath of the financial crisis, the ranks of employees who keep tabs on traders have swelled. Computers may have revolutionized trading, yet analyzing employee e-mails, texts and calls often remains a manual task requiring a large staff.
"The systems that are around are either very, very manual and they require a hundred people in the basement to do the work, or they are automated but come up with so many false positives that you yet again have to sift through everything," said Valerie Bannert-Thurner, head of risk and surveillance solutions at Nasdaq.
Compliance departments have bulked up as a wave of scandals and accompanying fines forced the banks to look harder for misbehavior by traders.

Digital Reasoning already analyzes traders' electronic messages and plans to monitor their phone calls too. Nasdaq has invested in the company as have Goldman Sachs Group Inc. and Credit Suisse Group AG.
Some banks have put their compliance people in locations that are cheaper than London or Manhattan. Goldman Sachs runs some of its surveillance operations from Salt Lake City -- the bank's second-largest office in the Americas. UBS, which last year said it would hire another 350 compliance staff, monitors its employees and clients from locations including Nashville.
"People like to say compliance is a growth industry," said Matthew Richman, a trade-surveillance analyst at broker Convergex Group LLC who previously worked at Goldman Sachs in Salt Lake City.
Another company seeking to automate trader surveillance is Fonetic Solutions. The firm says it uses machine learning to reassemble every piece of a transaction, including any instant messages, e-mails or mobile phone calls involved in the trade. Fonetic customers include Banco Bilbao Vizcaya Argentaria SA.
A startup called SafeScribe has created software that warns employees when they're typing something that could be risky for them or their employer. The tech company was co-founded by Matt Clarke, a former trader at Barclays Plc.
Although banks have stored vast amounts of communications data, they have struggled to monitor their traders in real time. Kweku Adoboli traded inappropriately for months before losses of more than $2 billion manifested themselves at UBS.
Galleon Group LLC Co-Founder Raj Rajaratnam was found guilty of a seven-year insider trading conspiracy. Digital Reasoning and Nasdaq are also targeting investment firms as potential clients.
Companies that specialize in machine learning are trying to speed up communications monitoring, catching infractions before they become billion-dollar problems.
"If you only record, you are blind," said Fonetic Founder and Chief Executive Officer Juan Manuel Soto. "You cannot know what has happened."
Before it's here, it's on the Bloomberg Terminal.
LEARN MORE