Deadly Riots Are Part of a Bigger Problem for India's Modi: Jobs
by
Demand for job reservation in Haryana cripples India's capital

India has more people under 25 years than U.S and Brazil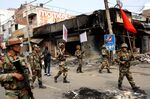 Rioting that killed more than 15 people is symptomatic of a bigger problem for Prime Minister Narendra Modi: How to create enough jobs for India's enormous youth population.
Modi called in 5,000 security personnel over the weekend after members of India's Jat community set ablaze shopping malls, blocked roads and attacked government offices in Haryana, a state north of Delhi. The disruption cut off part of Delhi's water supply, and car maker Maruti Suzuki India Ltd. had to temporarily shut some factories due to disruption in supplies.
The Jats are demanding inclusion in an affirmative action system that reserves government jobs for certain underprivileged groups in India's ancient caste system, a method of social stratification based largely on Hindu beliefs of purity. The policy guarantees a wide range of benefits -- such as higher education, access to state jobs and certain welfare programs -- to lower castes and indigenous tribes.
Similar protests have erupted in the Indian states of Gujarat and Andhra Pradesh in the past year, underscoring the challenges Modi faces to deliver on campaign promises of economic development. While India's growth of 7.3 percent is beating most other major economies, that has yet to translate into significant employment gains in a nation with more people under the age of 25 than the entire population of the U.S. and Brazil combined.
Demographic Dividend
"This disenchantment has been growing in the past decade because increased growth has not resulted in increased job opportunities for the youth," said Jay Shankar, an economist with Religare Securities Ltd. in New Delhi. "There is a risk of demographic dividend becoming a liability."
Less than 10 percent of employed Indians work in the formal sector, and accurate statistics are hard to find. India created 296,000 jobs from June 2014 to June 2015, according to Labor Bureau figures for eight selected sectors.
That compares with about 1 million people who enter the working population each month, according to Sabina Dewan, president and executive director of JustJobs Network, a research group focused on job creation.
"This is severely deficient," she said by email.
Business Difficulties
Modi recognizes the challenges. In an interview posted on YouTube in 2013, he said the only solution to end demands from various groups for reserved jobs was to create surplus jobs and education opportunities. Doing so will ensure there won't be a huge appetite for affirmative action, he said.
Even so, his efforts to unleash the private sector through cutting red tape have only registered marginal improvement so far. India ranks 130 of 189 economies in the World Bank's Doing Business index -- well short of his goal to crack the top 50 in two years.
Jats are predominantly engaged in farming and are considered affluent due to large land holdings. The same is true for the Kapus in Andhra Pradesh and Patels in Gujarat. Over the years, these groups have suffered as farm holdings get divided over generations and agricultural incomes dip due to irregular weather patterns.
'Tiny Number'
Their diminishing social mobility has prompted them to demand guaranteed jobs and admissions to college, similar to those given to other historically oppressed groups. The Jats comprise nearly 30 percent of Haryana's population and are seeking to be included in a designation known as Other Backward Class, which would make the eligible.
The Congress party, which opposes Modi nationally, gave Jats reservation ahead of the 2014 national election. The Supreme Court last year nullified the move, saying that the government should only expand affirmative action "to permit entry of the most distressed."
Modi's party, which runs the state of Haryana, sought to meet some demands of the protesters. Haryana Finance Minister Captain Abhimanyu on Monday said that the state government will approve legislation giving Jats more rights, and that a central government panel will consider following suit nationally.
While the government remains an attractive employer, the fight for jobs is getting tougher. The public sector's share in formal employment fell to about 60 percent in 2011 from 68 percent in 2003, and the number of jobs across federal, state and local bodies dropped 6 percent to 17.5 million. Private employees rose 38 percent to 11 million.
"Jobs can't be created overnight," said Sanjay Kumar, New Delhi-based director of the Centre for the Study of Developing Societies. "What needs to be communicated is that jobs in the government are shrinking and what they are fighting for is a very tiny number."
Before it's here, it's on the Bloomberg Terminal.
LEARN MORE