Putin v. Poroshenko: European Court Claims Near $100 Billion
by
Russia sues over bond, gas, while Ukraine sues over Crimea

`It's a new phase of the standoff,' Teneo's Dhand says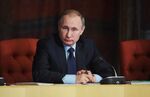 Ukraine's war with pro-Russian rebels may be frozen but the legal battle between Vladimir Putin and Petro Poroshenko is just heating up.
The $3 billion lawsuit Russia filed against Ukraine in London last week over a bond default is just a fraction of the $63 billion Ukraine is seeking in lawsuits and other legal claims from Stockholm to The Hague over Putin's annexation of Crimea. Russian gas exporter Gazprom PJSC, meanwhile, is demanding about $32 billion in unpaid bills, pushing total claims from both sides to almost $100 billion.

"It's a new phase of the standoff," said Otilia Dhand, a political analyst specializing in central and eastern Europe at Teneo Intelligence in Brussels.
The pivot from combat zones to courtrooms will ensure relations between the former Soviet neighbors remain tense for the foreseeable future, lawyers and officials from both countries said. Many of the cases may take years to resolve and cost tens of millions of dollars in legal fees alone.
And there's no guarantee that either side will be able to collect if it wins because that would entail hunting for state assets abroad, a complex, costly and time-consuming process in its own right, according to Stephen Jagusch, a partner at Quinn Emanuel Urquhart & Sullivan LLP. Ukraine would have to get in line behind former owners of Yukos Oil Co., who won a $50 billion award against Russia in The Hague in 2014 for unlawful confiscation of assets, he said.
Below are details of the biggest cases that have been or are due to be filed:

Russia v. Ukraine


Russia is seeking repayment of a $3 billion Eurobond it sold to Ukraine in December 2013, two months before President Viktor Yanukovych, a Putin ally, was ousted amid bloody protests, prompting the annexation of Crimea.
Russia refused to participate in the debt restructuring that Ukraine asked its foreign bondholders to join last year as the pro-Russian rebellion in the east pushed the country to the brink of insolvency and forced it to seek emergency funding from the International Monetary Fund. Private investors led by Franklin Templeton agreed in August to push back maturities and take a 20 percent so-called haircut.
Cleary Gottlieb Steen & Hamilton LLP, based in New York, is representing Russia, which is seeking full repayment of the $3 billion debt plus $75 million in interest and legal fees, Russian Finance Minister Anton Siluanov said Feb. 17. Ukraine is prepared to "vigorously defend its interests" in court, the Finance Ministry in Kiev said the next day.
The case could take between 18 and 24 months, according to Nicholas Peacock, a partner and arbitration specialist at Herbert Smith Freehills LLP in London.
Ukraine v. Russia
Poroshenko said on state television last month that Ukraine will file its suit against Russia for annexing Crimea, a region about the size of Belgium, with the International Court of Justice in The Hague within weeks. The Justice Ministry in Kiev has said that Ukraine will seek more than 1 trillion hryvnia ($37 billion) in damages.
International Court of Justice cases are generally very slow moving and can take years to complete, according to Peter Griffin, managing director of Slaney Advisors in London. This court is the ideal venue to decide on the legality of the Crimean annexation, but there are so many other cases related to Crimea that will probably be decided first, setting a precedent that may influence the ruling in The Hague, Griffin said. 
"The large number of cases multiplies the players in the game that can make that legal determination first," he said.
Naftogaz v. Gazprom
Ukrainian state energy company NAK Naftogaz Ukrainy has filed an arbitration claim against Russian gas exporter Gazprom for about $26 billion in Stockholm, claiming it overpaid for supplies and was paid too little for transit. The first ruling in the case isn't expected before the middle of the year.
Naftogaz has also hired lawyers to seek damages from losses in Crimea.
Gazprom v. Naftogaz
Gazprom last June filed a $29.2 billion arbitration claim against Naftogaz in Stockholm for unpaid supplies and failure to import all the gas it agreed to buy. Last month, the Moscow-based company said Ukraine owes it almost $32 billion in all.
Oschadbank v. Russia
Ukraine's state-run AT Oschadbank filed arbitration claims against Russia in Stockholm last month over assets lost in Crimea. CEO Andriy Pyshnyi said in August that he would seek about 15 billion hryvnia and that the case could last four years.
Other Ukrainian companies v. Russia
Five arbitration cases have been filed by Ukrainian companies, including oil and gas provider Ukrnafta PJSC, Privat Bank and Aeroport Belbek LLC, against Russia in the Hague over losses related to Crimea. New York-based Hughes Hubbard & Reed LLP is representing the Ukrainian companies, according to its website.
The claims argue that Russia breached a 1998 bilateral investment treaty with Ukraine. Russia has said it won't take part in legal proceedings because that agreement can't serve as a basis for arbitration.
Before it's here, it's on the Bloomberg Terminal.
LEARN MORE