Nevadans Cheer Trump's China-Bashing Even as Nation Buoys State
By
Chinese back $1 billion auto plant, newest Las Vegas casino

Republicans bring campaign to Nevada slamming China over trade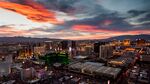 Republican presidential candidates led by Donald Trump are drawing cheers in Nevada by bashing China's policies, even as that nation's tourism, trade and investment help lift the state from the worst economic decline in the U.S.
When Trump took the stage at rallies in Las Vegas and Reno recently, crowds roared as the real-estate mogul and reality-show star accused China of currency manipulation and one-sided trade policies. His message resonates in a state that just five years ago had the highest U.S. unemployment rate.
While rhetoric blaming China for the decline of the American middle class plays well on the campaign trail, it belies the reality of the interconnected economies of the U.S. and China, where even states like Nevada that lack seaports have grown increasingly dependent on global trade and investment. Chinese commerce has boosted Nevada's tourism and mining industries, and money from China is backing a $1 billion auto plant under construction in the state.
"It's easy to bash perceptions of Nevada or the U.S. losing economic challenges or competition to China," said Brian Krolicki, a Republican who led trade missions to China as Nevada's lieutenant governor between 2007 and 2015. "The Chinese-bashing, political rhetoric has less validity in Nevada than it does in other states."
China is Nevada's second-largest trading partner, with exports to China increasing 61 percent between 2008 and 2013 to $599 million. Asian investments are financing an auto factory in the state and a new casino on the Las Vegas Strip marketed to tourists from China, which ranks as the eighth-largest source of visitors to the gambling hub.
Tariffs & Warships
Trump, and to a lesser degree Senators Marco Rubio and Ted Cruz and Ohio Governor John Kasich, have called for changes in the U.S.-China relationship, whether by imposing new tariffs, positioning more warships in the South China Sea or by pushing for improved human rights in China. Republican voters in Nevada will choose among the candidates today in the fourth nominating contest in the race.
Nevada, which had the nation's worst unemployment and foreclosure rates at the beginning of this decade, has since had the 10th strongest recovery, according to the Bloomberg Economic Evaluation of States. Part of the comeback is due to trade and tourism with China, said Robert Lang, executive director of Brookings Mountain West at the University of Nevada, Las Vegas.
Nevada's exports to China increased 1,185 percent between 2004 and 2013, according to the U.S.-China Business Council, compared with a 189 percent increase to the rest of the world during that time. Mining and electronics accounted for the largest share.
Almost 200,000 visitors came from China to Las Vegas in 2014, according to the Las Vegas Visitors and Convention Authority, an increase of 153 percent from 2009. The authority set up offices in Shanghai and Hong Kong to market Las Vegas to the Chinese.

Chinese tourists are a target market for Resorts World Las Vegas, a $4 billion casino project on the Strip financed by Genting Bhd., a Malaysian company. The first Strip development in a decade will have an "authentic" Chinese theme that will attract visitors from China and the U.S., the company said in a press release.
Faraday Future, based in Southern California and financed by Beijing-based billionaire Jia Yueting, announced in December that it picked North Las Vegas, a suburb once on the brink of insolvency, as the site of an electric-car factory expected to employ 4,500 people.
Chinese investors also have proposed a high-speed rail project to funnel tourists from Southern California to Las Vegas, and solar farms in the Nevada desert.
The projects "will significantly boost the Southern Nevada and Nevada economies," Stephen Miller, an economist at UNLV, said in an e-mail. "China has become a more important player in the Southern Nevada economy because of visitors and capital investment."

Stump Speech
Criticism of Chinese trade with the U.S. is a staple of Trump speeches. The billionaire often emphasizes that he blames U.S. leaders for allowing the country to be taken advantage of.
Other Republicans have joined in the criticism, albeit in milder tones. Rubio denounces theft of U.S. intellectual property by Chinese companies. Cruz angered China with a bill to rename part of a street across from the Chinese embassy in Washington after a jailed Chinese political activist. Kasich has accused the Chinese government of manipulating markets.
Trump, who leads the Republican field, drew raucous applause from a crowd of 2,000 in Las Vegas last month when he vowed to bring U.S. dollars back from China.
"The greatest debt in the history of the world is what China has done to us," Trump said. "They've taken our jobs, they've taken our money, they've taken everything. They've rebuilt China with our money."
Trump vows to declare China a currency manipulator, boost tariffs on Chinese imports, crack down on intellectual-property theft and strengthen the U.S. military presence in the East and South China seas.
"We're going to take our jobs back from China and all these other countries," he told a crowd of 7,500 packed into a casino arena in Las Vegas Monday night.
Rubio, during a rally Sunday in Las Vegas, named China in a list of regimes he said pose a threat to America, a slate that also included North Korea and Russia.
"The Chinese government is expanding their military faster than anyone ever has," Rubio said. "They steal our inventions. They hack into our computers. They're taking over the South China Sea."
Internal Affair
China's Foreign Ministry has denied Trump's currency manipulation claims while declining to weigh in on the presidential race more generally, repeatedly calling it an "internal affair" for the U.S.
The next president is likely to take a pragmatic approach to relations with China, said Zhou Qi, director of the American Politics Research Desk at the Chinese Academy of Social Sciences in Beijing. He or she will have to recognize the shared interests between the U.S. and China while "safeguarding American core interests," Zhou said.
Several Trump supporters at his Reno and Las Vegas rallies said they agree with his message on trade without interpreting it as an attack on China.
"He wants to level the playing field," said Rob Haw, 58, an aviation consultant who lives in Las Vegas. "Why are they making iPhones in China and not here? He's looking out for the middle class."
With an Asian-American population of 10 percent and a Chinatown in the shadow of the Trump International Hotel, metropolitan Las Vegas has become a fairly sophisticated player on the world stage and recognizes the value of global trade with China in particular, said John Lee, the North Las Vegas mayor. He visited China three times and met with Jia as part of his city's bid for the Faraday Future plant.
"We don't have the same view that Mr. Trump is espousing," said Lee, a Democratic former state assemblyman. "We're doing business with businesses in China, not the government. I don't know where he thinks they've been abusive to us, at least not here in the Las Vegas Valley."