U.S. Stocks Reverse Losses as Oil Stabilizes; Treasuries Decline
by and
Crude around $32 a barrel to halt rout on U.S. stockpiles

Gold ekes out more gains; `Brexit' concern weighs on pound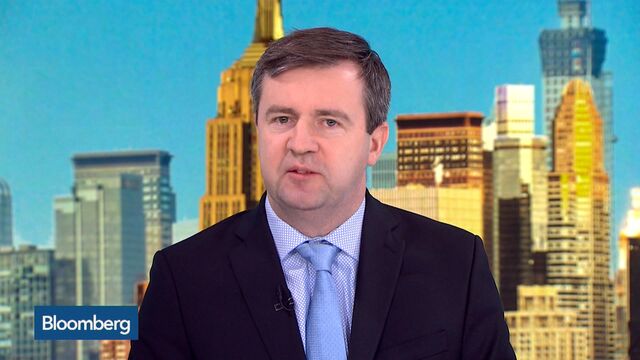 Equities in the U.S. rose, with indexes recovering from drops of more than 1 percent as crude oil prices steadied around $32 a barrel, while Treasuries reversed gains as demand for some haven assets abated. 
The Standard & Poor's 500 Index overcame a decline of as much as 1.6 percent as mining stocks rallied with technology shares, which helped the Nasdaq 100 Index up 0.9 percent. U.S. crude settled at $32.15 a barrel, clawing back from a slump that took it below $31. While gold and the yen extended gains, 10-year Treasury notes swung to losses, with yields on the debt rising three basis points to 1.75 percent. Wheat slid to a five-year low.

Crude's stabilization, which comes in the wake of a rout on Tuesday, helped U.S. stocks rebound from their biggest decline in two weeks. The gyrations in energy prices have melded with concern over growth in China to dominate global financial markets this year, spurring central banks to ponder further stimulus measures to safeguard economies. Equities elsewhere dragged a gauge of global shares lower for a second day as U.S. Treasury Secretary Jacob Lew said Group of 20 finance ministers wouldn't deliver an "emergency response" to the market turmoil at their meeting later this week.
"Volatility keeps going up and down, same with intraday moves in the market, it's really something that's not new," said Kevin Kelly, the New York-based chief investment officer at Recon Capital Partners. "People are looking at technical levels right now and they're looking at those types of things over the short-term because there's no conviction out there."
Wednesday marked the second time this year that the S&P 500 erased an intraday loss of more than 1.5 percent. The first was on Feb. 3, and the index fell 3.2 percent over the week that ensued.
Stocks
The S&P 500 rose 0.4 percent to 1,929.80 as of 4 p.m. in New York, as groups of raw-materials companies, energy producers and technology stocks climbed at least 0.8 percent. The U.S. equity rebound faltered Tuesday as global-growth concerns resurfaced and banks, the rally's strongest performers, lost momentum.The S&P 500 has fallen 0.5 percent in February, heading for a third straight monthly drop and the longest run of losses since 2011. It's now 9.4 percent below its all-time high reached last May.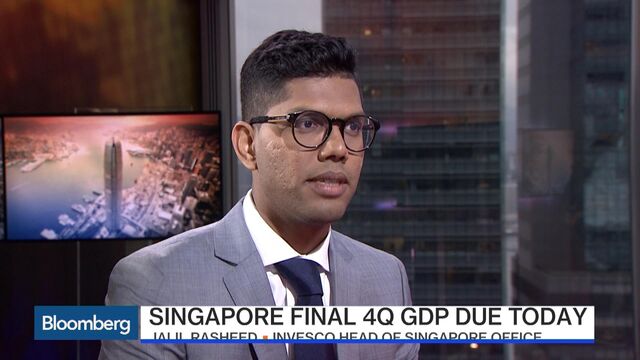 Markit Economics reported the worst reading on U.S. service-sector activity since 2013, while separate data showed new home sales fell more than previously forecast. Those reports raised questions about growth in the U.S. services and consumer sectors, which are seen as more resilient to tumbling energy prices than the manufacturing sector.
"The big question is whether the U.S. economy is going into a recession and the jury is still out on that," said Charlie Bilello, director of research at New York-based Pension Partners. "The fact that that question is out there is going to lead to continued volatility and volatility's going to be on the upside and on the downside."
The Stoxx Europe 600 Index slipped 2.3 percent, falling for a second day amid the downturn in commodity prices, disappointing earnings results and dissipating faith in central bank support. The gauge hasn't posted two consecutive days of gains since December. European markets closed before oil erased its decline.
The MSCI Asia Pacific Index slipped 0.9 percent, with Japan's Topix index down 0.5 percent in a second day of losses. Stocks in Australia and Hong Kong tumbled more than 1.2 percent.
Commodities
West Texas Intermediate oil futures climbed 0.9 percent after earlier erasing a retreat of 3.7 percent amid evidence of a drop in U.S. gasoline supplies.
Stockpiles of the fuel fell 2.24 million barrels to 256.5 million, according to the Energy Information Administration, as demand climbed on pump prices near a seven-year low. American crude stockpiles, however, rose by 3.5 million barrels to an 86-year high of 507.6 million last week, according to the EIA.
Crude has slumped about 13 percent this year on speculation a global glut in the commodity will persist amid the outlook for increased shipments from Iran and brimming U.S. supplies. Oil ministers from Iran and Saudi Arabia signaled Tuesday that they may not be willing to curtail production, which weighed on prices earlier in the session.
Gold futures posted their biggest advance in almost two weeks as the early equity losses preserved demand for the precious metal. Futures for April delivery advanced 1.4 percent to $1,239.10 an ounce in New York, while spot prices climbed 0.2 percent to $1,229.60.
Copper slipped on concerns rising stockpiles in China are evidence of continued weak demand in the world's biggest consumer of industrial metals. Copper for delivery in three months fell as much as 1.4 percent in London, the most since Feb. 10, to $4,580 a metric ton.
Wheat futures in Chicago sank to the lowest level since June 11, 2010 amid speculation rains are improving crops in the U.S., potentially adding to a global glut.
Currencies
Sterling dropped 0.6 percent to $1.3926, touching its lowest level since March 2009, and also fell against the euro. The pound has been sliding all week after London Mayor Boris Johnson, one of the nation's most popular politicians, said Sunday he'll campaign for the U.K. to exit the European Union in a referendum.
Lower crude prices dragged on the currencies of oil exporters Russia and Malaysia. Both lost 0.6 percent versus the dollar. Brazil's real was little changed, even after Moody's Investors Service cut the country's credit rating to Ba2 from Baa3, with a negative outlook.
Officials from the world's biggest economies will meet in Shanghai Feb. 26 and 27 to discuss the recent turmoil in Chinese markets and ways to bolster a safety net for the global financial system, according to people familiar with the agenda for the talks. Treasury Secretary Lew downplayed expectations for "crisis response," in a Bloomberg TV interview, saying the world was currently in a "non-crisis environment."
The yen, regarded as a haven asset with gold and government debt, was little changed at 112.09 per dollar, after earlier strengthening as much as 1 percent.
Bonds
Government debt fell, bolstering benchmark yields in late Wednesday trading. Treasury rates continued to be steered by the price of oil, reaching session lows in early U.S. trading concurrently with WTI crude, and then rebounding in tandem.
Two-year U.S. yields climbed two basis points, or 0.02 percentage point, to 0.76 percent, while those on 30-year notes added three basis points to 2.61 percent.
Yields on Japanese sovereign notes due in a decade fell to as little as negative 0.055 percent, a record low.
Emerging Markets
The MSCI Emerging Markets Index fell for a second day, losing 1.1 percent. South Africa's benchmark dropped 0.9 percent and India's S&P BSE Sensex slipped 1.4 percent, while Russia's Micex Index slid 1.7 percent as trading resumed following a holiday.
Chinese stocks trading in Hong Kong slid the most in almost two weeks, with the Hang Seng China Enterprises Index declining 1.3 percent. PetroChina Co. fell 2.1 percent, halting a two-day advance.
The Shanghai Composite Index was one of the few gaining benchmarks in Asia Wednesday, with power producers leading the gauge up 0.9 percent.
Before it's here, it's on the Bloomberg Terminal.
LEARN MORE