Military Tensions Set Tone for Frosty China-U.S. Discussions
by and
Two countries accuse each other of militarization in Asia

China may be placing radar in South China Sea, CSIS Says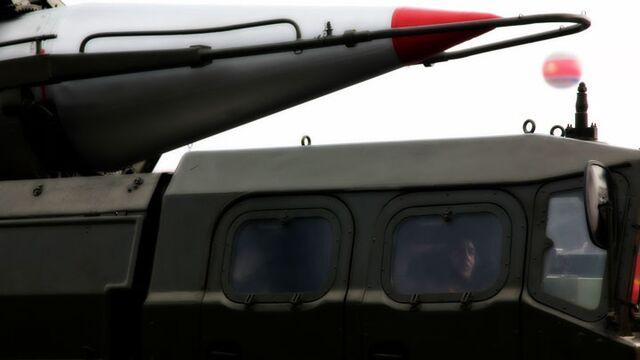 Chinese Foreign Minister Wang Yi meets U.S. Secretary of State John Kerry for talks Tuesday as each country accuses the other of escalating military tensions in the western Pacific.
The sit-down in Washington will be the first since China parked missiles on Woody Island in the disputed South China Sea, and since the U.S. announced it would hold talks about deploying a missile defense system in South Korea as a deterrent to North Korea.
QuickTake Territorial Disputes
The U.S. is "encouraging a peaceful resolution of competing maritime claims in the South China Sea -- a goal that is definitely not helped by the militarization of facilities in that region," Kerry said Tuesday in testimony before the Senate Foreign Relations Committee.
With the countries trading barbs, expectations for the talks are low.
China argues its expansion in the South China Sea is the natural behavior of a regional power while the U.S., the major military presence in Asia since the end of World War II, says China is using its economic and military clout to dominate smaller neighbors.
"Washington should be well aware that China will not compromise on territorial integrity and Washington should not underestimate China's resolve in this respect," the official Xinhua News Agency said in a commentary ahead of Wang's visit.
'Militarization' Debate
The U.S. has said China under President Xi Jinping is militarizing the South China Sea by building artificial islands and placing artillery, radar and other weapons there, while China says the U.S. is doing the same with its "freedom of navigation" voyages, where naval vessels pass within territorial zones China asserts around reclaimed reefs. China claims more than 80 percent of the waters, contesting territory with countries including Vietnam and the Philippines.
"China is trying to portray itself as a victim in its territorial disputes because it still hasn't gotten over what it calls the 'century of humiliation' when it was at the mercy of colonial powers," said Malcolm Davis, a senior analyst at the Australian Strategic Policy Institute. "It's like a game of chicken -- both sides are refusing to back down. One car has to swerve and I'm willing to bet it won't be China. Xi Jinping has too much face to lose if he were to back down."
Speaking on Monday, Foreign Ministry spokeswoman Hua Chunying said there was "no difference between China's deployment of necessary national defense facilities on its own territory and the defense installation by the U.S. in Hawaii."
White House spokesman Josh Earnest dismissed China's analogy. "There is no other country that has a claim on Hawaii," he said. "But yet when you consider the land features in the South China Sea, there are a variety of overlapping territorial claims that a variety of countries have made on those features."
China may now also be building a high-frequency radar installation in the area, posing a bigger threat to the balance of power in one of the world's busiest waterways than the surface-to-air missiles, according to a report by the Center for Strategic and International Studies.
Tit-for-Tat Actions
Both China and the U.S. are contributing to tensions with tit-for-tat actions, said Zhang Baohui, director of the Center for Asian Pacific Studies at Lingnan University in Hong Kong. "While the U.S. tries to tell the world, especially its allies, that it still matters in the South China Sea, China likes to tell the world that the U.S. cannot dictate its South China Sea policies through freedom of navigation operations," he said. "In essence, it is a story of great-power competition over prestige and primacy in the region."
U.S. Senator John McCain, chairman of the Senate Armed Services Committee, said at a hearing of the panel Tuesday that President Barack Obama's administration isn't doing enough to respond as China acts "more like a bully."
In addition to "a more robust freedom of the seas campaign," the Arizona Republican said the U.S. should explore imposing "sanctions against Chinese companies involved in the reclamation that has destabilized the South China Sea and caused massive environmental destruction."
North Korea Tensions
The matter risks spilling into other areas. Ahead of Wang's trip, China sought to link the South China Sea tensions to U.S. efforts to deploy a missile defense system known as Thaad on South Korean soil, close to China's doorstep. The U.S. says the system would be used solely to counter threatened aggression by North Korea.
Putting Thaad in South Korea would "pose a direct threat to China's security interests," Xinhua said in its commentary. "Therefore, the United States has to act cautiously and avoid undermining China's security interests or adding new complications to regional peace and stability."
Sino-U.S. cooperation to contain North Korea after leader Kim Jong Un's nuclear test and long-range rocket launch may now become even less likely. China, North Korea's main trading partner and ally, has resisted U.S. efforts for stronger sanctions that would target energy shipments, given its concern about steps that could destabilize Kim's regime.
"U.S. plans to deploy Thaad on the Korean peninsula add to the view among Chinese officials that the U.S. is applying a containment approach by trying to surround China from the South Pacific to the South China Sea and all the way to the Korean peninsula," said Suh Jin Young, a professor emeritus of Chinese politics at Seoul's Korea University.
Whenever the U.S. does something, China becomes suspicious that it's about China, said Lee Seong Hyon, a research fellow who specializes in China studies at the Sejong Institute near Seoul. "There's this fundamental gap of thinking, mistrust, distrust and miscommunication."
"Will Wang Yi's trip be successful?" Lee said. "At the best they could manage to have a communication where both sides talk to each other so that they can confirm how different they are, but I don't think they could achieve something tangible."
Before it's here, it's on the Bloomberg Terminal.
LEARN MORE