Late Winter Brings Sales Boost to Macy's
by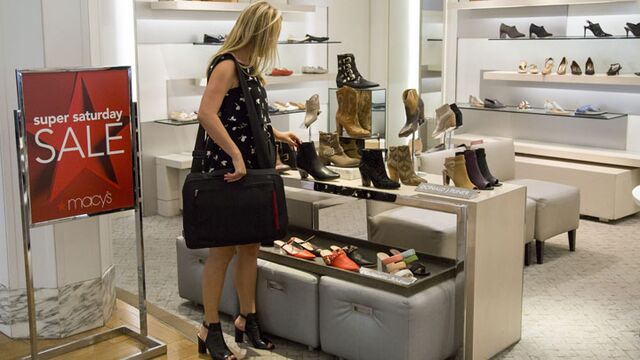 A late winter chill helped revive Macy's Inc. sales last quarter.
The company saw a surge in demand for jackets and boots last month, when much of the U.S. finally began to cool down after a warm beginning to the season. The boost helped Macy's offset a bleak holiday period. Though same-store sales declined 4.8 percent in the fourth quarter, which ended Jan. 30, that was better than the 5.2 percent drop analysts had predicted.
Macy's also gave a relatively upbeat forecast for 2016, sending the shares up 3 percent to $42.31 in New York. The company predicted earnings of $3.80 to $3.90 a share this year, according to a statement Tuesday. Analysts had estimated $3.84.

Dillard's Inc. also saw its shares jump Tuesday, though its latest results were less positive than Macy's, a sign investors are warming to the broader department-store industry. Its stock climbed 8.2 percent to $78.37, the biggest gain since November 2014.
Macy's outlook renewed optimism that department stores can pull out of a slump, which dragged down its stock 47 percent last year. To cope with sluggish department-store traffic, Macy's has been closing underperforming locations and clearing out excess inventory. It's also seeking joint ventures that could squeeze additional cash out of its flagship properties, such as its Manhattan store. Macy's said on Tuesday that there's been a "high degree of initial interest" in potential partners.
Still, Macy's remains under pressure from activist investor Starboard Value, which has called on the company to take more dramatic steps to capitalize on its property holdings. A strong U.S. dollar also is taking a toll on spending by foreign tourists.
Winter Inventory
Profit was $2.09 a share in the fourth quarter, excluding some items, the Cincinnati-based company said Tuesday. Analysts projected $1.88 on average. Macy's and its Bloomingdale's chain were well-stocked in coats, sweaters and other winter clothing, helping the company take advantage of colder weather, Chief Executive Officer Terry Lundgrensaid in the statement.
"While 2015 was challenging, our sales trend improved in January as the weather turned colder in northern climate zones," Lundgren said. "We are encouraged by the way the business responded going into 2016, and we believe we are well positioned to stabilize sales levels this year."
Lundgren also is looking to cost-savings programs to shave $400 million in annual expenses. As part of the belt-tightening push, Macy's said in January it's cutting or relocating about 3,000 workers and exploring options for its real estate. The changes will affect three to four workers at each of about 770 Macy's and Bloomingdale's stores -- about 2 percent of its total staff -- though half of those employees are expected to be offered other jobs. And it's shutting about 40 Macy's locations, following through on an announcement in September.
No REIT
The retailer said in November that it won't form a real estate investment trust, an effort Starboard had endorsed. Instead, Macy's is looking to sell parts of its flagship Manhattan, San Francisco, Chicago and Minneapolis stores, as well as mall-based properties. The real estate firm Tishman Speyer is interested in taking stakes in the flagship locations. Macy's is working with financial advisers on the project, it said on Tuesday.
Macy's expects to execute some real estate transactions by the end of this year, Chief Financial Officer Karen Hoguet said on a conference call.
The company's rejection of a REIT didn't dissuade David Einhorn's Greenlight Capital from taking a stake in the chain. That firm said in a letter to investors that a private equity firm might work with a REIT to acquire Macy's.
Before it's here, it's on the Bloomberg Terminal.
LEARN MORE