London Stock Exchange Is in Merger Talks With German Rival
by
Shares in both companies soar as merger talks emerge

Deal would be a merger of equals between the exchanges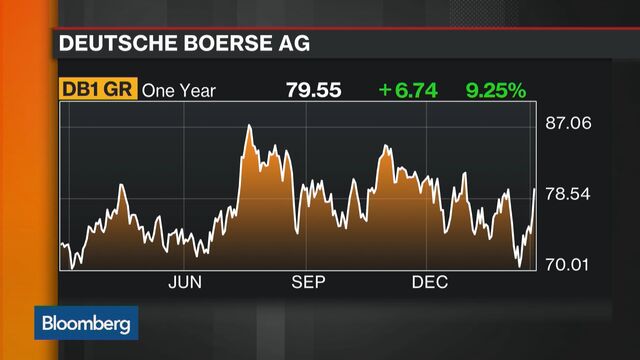 London Stock Exchange Group Plc said it was in merger talks with Deutsche Boerse AG, a deal that would create the dominant European exchange operator.
Just three days after British Prime Minister David Cameron set a date for a referendum on leaving the European Union, the London and Frankfurt-based market operators confirmed the discussions to create a business worth more than 20 billion pounds ($28 billion). Shares in both companies soared.
A combination of LSE and Deutsche Boerse reflects the inexorable consolidation that has created a handful of titans overseeing much of the plumbing for global trading. The Anglo-German tie-up would have leading positions in equities, derivatives, indexes and clearing, leaving it in competition with just a handful of market operators in the U.S. and Asia.
"It's very, very important in the context of the connectivity between the Americas, China as we've heard, and Europe, and of course London" that one of these global companies is based in the U.K., LSE Chief Executive Officer Xavier Rolet said in a Bloomberg Television interview in March.
Should regulators approve the all-share merger, LSE Group equity holders would own 45.6 percent of the enlarged group, while Deutsche Boerse stockholders would get 54.4 percent.

The chief executive officers of both companies are keen dealmakers. LSE's Rolet has bought an index provider and expanded into clearing, while Deutsche Boerse boss Carsten Kengeter spent $1.5 billion in his first 60 days in charge of Europe's largest derivatives exchange.
The exchange business is rife with acquisitions. Intercontinental Exchange Inc. became a global powerhouse in part through its dealmaking, such as the 2013 purchase of NYSE Euronext, which gave it a derivatives business called Liffe.
An LSE-Deutsche Boerse deal would also create a stronger rival to CME Group Inc., the world's largest derivatives market. That company was formed by the Chicago Mercantile Exchange's 2007 acquisition of the Chicago Board of Trade. Then a year later, CME bought the New York Mercantile Exchange.
The discussions are taking place against an uncertain backdrop for Britain's place in Europe. U.K. voters decide on June 23 whether to stay in the European Union. LSE Group's Rolet, along with 35 other chairmen or CEOs of FTSE 100 companies, signed a letter to The Times today urging Britons not to leave the EU.
Rolet has repeatedly argued that there's room for only a handful of firms to operate trading venues, clearing and related services around the globe, and the U.K. must ensure one of its companies is among them.
The merger was seen by a German politician as an escape route for LSE if Britain opts for an exit -- a Brexit -- from the 28-nation EU.
"I would not support a merger which is aimed to serve as a safety net for the City in case of a Brexit," Ingrid Arndt-Brauer, the head of a finance committee in the German parliament said by phone today. "The City of London seems to be afraid of the consequences of a possible Brexit."
Discussions between companies don't necessarily mean a deal will take place. The talks are ongoing, according to today's statement. Should the firms agree to merge, their key businesses will continue to operate under their existing brand names. The board would have an equal number of directors from both companies.
LSE's shares jumped 14 percent to 2,630 pence in London, their biggest rally since 2008. Deutsche Boerse climbed 3.2 percent to 78.80 euros. The shares jumped after Reuters reported shortly after 1 p.m. London time that the companies are in the early stages of exploring a possible merger.
Deutsche Boerse tried to buy a smaller version of London Stock Exchange in 2005. It dropped its bid after shareholders led by hedge funds opposed the plan. The flop led to the end of Werner Seifert's tenure as Deutsche Boerse CEO. The company in 2004 failed to buy SWX Swiss Exchange.
Kengeter's predecessor, Reto Francioni, led Deutsche Boerse for about a decade. Francioni's most famous deal was one that didn't happen: an attempt to purchase NYSE Euronext, which was rejected by the European Commission in 2012. Francioni called it a "black day for Europe."
Before it's here, it's on the Bloomberg Terminal.
LEARN MORE