Iran Calls Proposed Saudi-Russian Oil-Output Freeze 'Ridiculous'
by and
Oil Minister Zanganeh decries `unrealistic demands' on Iran

Country plans to boost oil output by 1 million barrels a day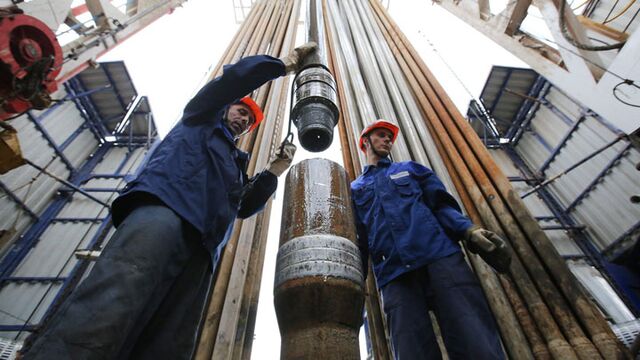 Iran's oil minister called a proposal by Saudi Arabia and Russia to freeze oil production "ridiculous" as it seeks to boost output after years of sanctions constrained sales. Crude prices fell after the comments.
The proposal by Saudi Arabia, Russia, Venezuela and Qatar for crude oil producers to cap production at January levels puts "unrealistic demands" on Iran, Oil Minister Bijan Namdar Zanganeh said, according to the ministry's news agency Shana.
"It is very ridiculous, they come up with the proposal on freezing oil production and call for this freeze to take place in their 10 million barrels a day production vis-a-vis Iran's 1 million barrels a day" planned production boost, he said Tuesday. "If Iran's crude oil production falls, it will be overtaken considerably by the neighboring countries."
The three OPEC members and Russia are seeking to halt the 40 percent drop in oil prices over the past year resulting from a global crude glut. Iran is seeking to increase output by 1 million barrels a day this year after international sanctions on its oil industry were lifted last month. Brent crude, a global benchmark, was 72 cents lower at $32.55 a barrel on Wednesday at 12:41 p.m. in London. It fell $1.42, or or 4.1 percent, on Tuesday.
Deal 'In Flames'
"This deal was never going to be plain sailing, but these comments shoot it down in flames," Ole Hansen, Copenhagen-based head of commodity strategy at Saxo Bank A/S, said by e-mail. "The market continues to swing between hot and cold depending on whether it's Iran or a U.S. production slowdown that receives most of the attention."
The Organization of Petroleum Exporting Countries, led by Saudi Arabia, abandoned its production target in December, allowing members to pump as much as they wanted to win back market share from higher-cost producers. Iran produced 2.86 million barrels a day in January, while Saudi Arabia pumped 10.2 million barrels daily in the month, according to data compiled by Bloomberg. Zanganeh made his remarks before his Saudi counterpart Ali al-Naimi addressed the IHS CERAWeek conference in Houston.
Saudi Arabia had insisted that other producers would have to join in before it would consider curbing production. Al-Naimi said later Tuesday in Houston that Saudi Arabia won't cut oil production as other countries would be unlikely to assist in restraining output. Instead, high-cost producers will have to "lower costs, borrow or liquidate" to cope with the slump in oil prices, he said.
Iraqi View
The proposal's success hinges on unified support, Iraq's Oil Minister Adel Abdul Mahdi said Wednesday in an interview in Tokyo. Iraq is OPEC's second-biggest producer after Saudi Arabia. "If some people freeze and others raise, then this is not a good policy," Abdul Mahdi said. "So we have to reach a complete agreement."
Iran is poised to raise output to 3.6 million barrels a day, an increase of 600,000 barrels a day, by the middle of this year, the International Energy Agency said Monday in its medium-term oil market report. The Iranian increase will balance the decline in U.S. light, tight oil forecast for this year, the IEA said.
"It makes sense that Iran won't want to freeze production at the level during sanctions," Olivier Jakob, managing director at consultants Petromatrix GmbH in Zug, Switzerland, said by phone. "If the deal is to work, Iran will have to have a special clause or exception that it can increase production and exports."
Investment Needs
The Persian Gulf state's exports of crude and condensate fell to 1.4 million barrels a day on average in 2014 from about 2.6 million in 2011, before the U.S. and European Union intensified sanctions on the country, the U.S. Energy Information Administration said in June. Iran has said countries that boosted output and sales at its expense should make room now for the country's return to the broader market.
Iran will need annual investment of $40 billion in its oil industry through 2020, Zanganeh said. The country needs foreign investment to help maintain production at ageing deposits as its main oil fields are more than 60 years old. Iran plans to offer other areas to international oil companies for development.
Before it's here, it's on the Bloomberg Terminal.
LEARN MORE