Here's What's Happening at JPMorgan's Annual Investor Day
by and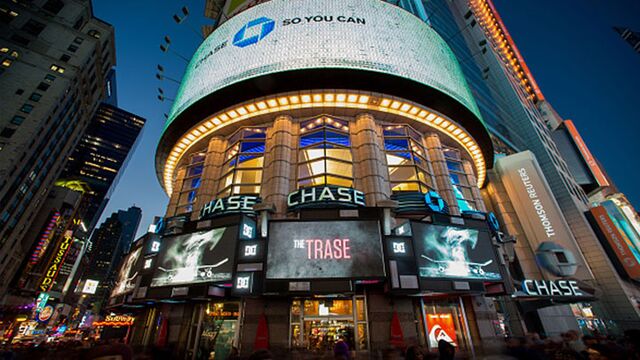 JPMorgan Chase & Co., the biggest U.S. bank, is holding an annual gathering for analysts and investors Tuesday at its New York headquarters. Here's what's happened so far:

The bank said it would need to boost reserves for soured energy loans by $1.5 billion if oil prices hold at about $25 a barrel over 18 months. Even if the situation isn't that dire, the lender already will have reserved an additional $600 million by the end of the first quarter to cover impaired loans to energy and mining companies. The total the firm plans to set aside -- $1.65 billion -- is larger than what Guggenheim Securities LLC had forecast, Eric Wasserstrom said in a note to clients. JPMorgan fell 4 percent at 12:36 p.m. in New York, among the worst performances in the 24-company KBW Bank Index.
Profit Goals
JPMorgan didn't alter its goal of achieving $30 billion in net income by 2019 despite changing assumptions about the impact of interest rates on the bank's lending businesses. The profit assumptions rest on "much higher" net interest income and "not much higher credit costs" -- which are essentially "the opposite of current fears" of what banks will face this year, according to a research note from analysts at Evercore ISI led by Glenn Schorr.
U.S. Consumers
Chairman and Chief Executive Officer Jamie Dimon remained bullish on the U.S. economy and said households are spending the savings they're getting from lower gasoline prices. He called the U.S. consumer the "huge winner" amid cratering crude prices.
TLAC Cushion
The bank has $125 billion of debt that would be eligible under a new rule intended to prevent taxpayer bailouts of large financial firms. JPMorgan can use the debt, plus capital and reserves for bad loans, as part of its $350 billion of total loss-absorbing capacity. TLAC is meant to allow banks to continue functioning without a government backstop by converting the debt into equity in case a firm's losses wipe out most of its capital.
'Brexit' Anxiety
Daniel Pinto, head of the investment bank, said uncertainty over Britain's possible exit from the European Union would be "real bad" in the short term, resulting in costly duplication of the company's systems. JPMorgan analysts warned clients in a note last month that a 'Brexit' could cause financial-services firms to move jobs out of the U.K.
Starbucks Deal
JPMorgan is investing in technology across its businesses, especially those that directly affect consumers. The bank said it signed an agreement with Starbucks Corp. that allows customers to pay for their favorite coffee with the Chase Pay mobile app.
More to Come
The investor summit continues after a lunch break, with Pinto and Dimon scheduled to speak at 1:30 p.m. and 2:40 p.m., respectively, followed by a question-and-answer session.
Before it's here, it's on the Bloomberg Terminal.
LEARN MORE