Heathrow Says Brexit Would Make New Runway Top Priority for U.K.
by
Long-haul trade routes to be key if Britons vote to quit EU

Air hub opposes `out' option because of trade concerns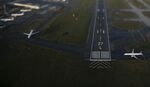 A U.K. vote to quit the European Union would make a quick decision on the location of a new runway serving London an even higher priority, Heathrow Airport Ltd. Chief Executive Officer John Hollande-Kaye said.
Rather than further delaying a verdict on expanding Heathrow -- Britain's top passenger hub and freight gateway -- an anti-EU majority in June's referendum would make the addition of flight capacity vital as the focus of the British economy changed, Holland-Kaye said Tuesday.
"If there is a Brexit vote it puts more emphasis on trade with non-European Union markets, and the only way you can get there is by air from Heathrow," the CEO said in an interview.
Heathrow was among 36 top U.K. companies that signed a letter Tuesday backing EU membership, with Holland-Kaye saying a victory for the "out" campaign would damage trade. The Brexit saga helped squeeze the runway decision off the political agenda on Dec. 11, though Prime Minister David Cameron also ordered more environmental reports before deciding between contending expansion plans at Heathrow and London Gatwick.
Dominant Issue
"The EU referendum is currently dominating politics, but even back in December it was where the prime minister was spending all of his time," Holland-Kaye said, adding that he's "confident" the government will follow a state commission and back Heathrow once the vote is out of the way.
The delay in reaching a conclusion will also allow Cameron to avoid conflict with Zac Goldsmith, a lawmaker who opposes the expansion of Heathrow to 135 million passengers a year from 75 million on noise grounds, and who will stand for Cameron's Conservatives in elections for London's next mayor in May.
Holland-Kaye said he's not dwelling on the possibility of Goldsmith ending up in charge of London and a Brexit advancing the political ambitions of current mayor and anti-EU campaigner Boris Johnson, an outspoken critic of Heathrow's expansion who would prefer a new airport in the Thames estuary.
"Boris is a passionate advocate for a new runway, just not in the same location," he said. "We don't agree on everything but we have a good relationship."
Holland-Kaye said that the $75 million paid recently for a pair of Heathrow takeoff and landing slots by Oman Air in a purchase from Air France-KLM Group "perfectly illustrates" the level of demand from global carriers for access to the airport. The hub has 30 carriers wanting slots to commence or flights, including EasyJet Plc and Flybe Group Plc, he said.
U.K. Transport Secretary Patrick McLoughlin this month told the House of Commons Transport Committee that a decision on airport expansion could still be made before the end of July following the Brexit vote, and that he'd certainly like to see a verdict before Parliament's summer break.
Before it's here, it's on the Bloomberg Terminal.
LEARN MORE