Goldman Sachs, HSBC Back Cameron Push to Keep U.K. in EU
by
36 FTSE companies sign letter that backs remaining in bloc

Move comes as Cameron prepares to step up campaign to stay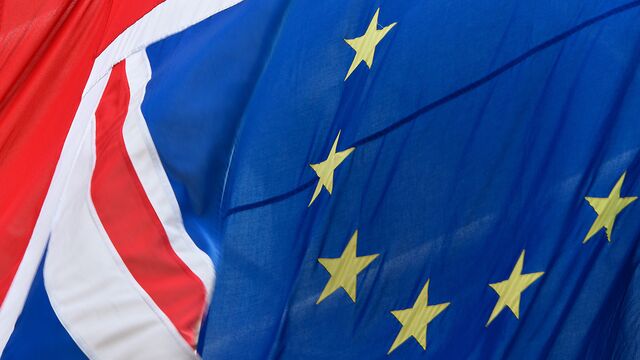 Chief executive officers from HSBC Holdings Plc to Goldman Sachs International were among the business leaders to endorse Prime Minister David Cameron's campaign to keep Britain in the European Union.
Richard Gnodde and Michael Sherwood, the London-based co-CEOs of Goldman Sachs Group Inc.'s international division, HSBC's Stuart Gulliver and Bill Winters of Standard Chartered Plc signed a letter to the Times newspaper saying that staying in the bloc would be best for the British economy. Barclays Plc and Lloyds Banking Group Plc weren't represented.

Bankers appeared more eager to back Cameron than representatives of other industries, with only 36 of the U.K.'s 100 biggest companies publicly endorsing the statement that "leaving the EU would deter investment, threaten jobs and put the economy at risk." Grocery chains J. Sainsbury Plc and Tesco Plc were among those not included.
The publication of the letter Tuesday comes four months to the day until a referendum on so-called Brexit, as Cameron intensified his campaign after making risks to the economy a central plank of his case for remaining in the EU.
"If you're not certain, surely the best thing to do is back the side that has the security, the safety and the certainty of what we know," the prime minister told staff at an office in Slough, west of London. "Three million jobs are dependent on our trade with Europe, of course not all those jobs would go -- we'd still do trade with Europe -- but can we put our hands on our hearts and say all those jobs will be safe if we leave the EU?"
Pound Drops
The pound continued its drop against its developed-nation peers on Tuesday following the weekend decision by London Mayor Boris Johnson, one of Britain's most popular politicians, to support withdrawal from the EU, setting the stage for a heated campaign.
Cameron, who openly ridiculed Johnson's position during a debate in the House of Commons on Monday, praised him on Tuesday, while saying he had made the wrong call.
"I have huge respect for Boris as a politician, as a great friend of mine, as a fantastic mayor of London," Cameron said. "But on this issue I think he's got it wrong and he's reached the wrong conclusion."
'Unrestricted Access'
In their letter, the executives said that business needs "unrestricted access to the European market of 500 million people in order to continue to grow, invest and create jobs."
The signatories, including bosses from Marks and Spencer Group Plc, Vodafone Group Plc and Heathrow Airport Ltd., employ 1.2 million people and represent about 200 companies, the Times said.
"A vote to remain offers the best of both worlds -- it secures our place as a powerhouse in the global economy, while remaining in the world's largest free trade zone," John Holland-Kaye, the CEO of Heathrow, said in a separate statement on Tuesday.
Winters of Standard Chartered told reporters that while the implications for his company were "not overwhelmingly material one way or another," it was still the bank's view that "Britain is best placed in Europe."
Other finance chiefs to back Cameron were HSBC Chairman Douglas Flint, Adrian Montague, chairman of Aviva Plc, Xavier Rolet of London Stock Exchange Group Plc and Tidjane Thiam of Credit Suisse Group AG.
Voter Choice
Perhaps worried about alienating consumers, pay-television provider Sky Plc joined Tesco and Sainsbury in not endorsing the letter. The referendum is "a matter for the British people," Sainsbury said in a statement on Monday.
Barclays said in a statement that, while it didn't sign up to the letter as it's against the bank's policy, "on balance we think it is in the interests of our customers and clients" to stay in the EU.
The letter was criticized by Richard Tice, the co-founder of Leave.EU., who accused Cameron of "bullying" executives to sign it.
"Brexit will reduce unnecessary regulatory burdens and cost on business, which can be used to invest in more jobs, not less," he said.
The financial industry is more likely to be worried about life outside the EU than other business sectors given an exit would jeopardize the so-called passporting arrangements which allow firms to operate from the U.K. without needing a separate subsidiary on the continent.
Mega Banks
In an interview with Bloomberg News, ING Groep NV Chief Executive Officer Ralph Hamers said the Dutch lender would probably follow other major banks in reducing its London staffing levels if the U.K. left the EU. HSBC has already said it would probably relocate about 1,000 investment bankers to Paris.
"If some of the mega banks, the markets banks, leave London, we will go with the flow," Hamers said. "Either the circus of the financial markets is located in London or it's going to be somewhere else."
Labour Push
The opposition Labour Party also intensified its own push to stay in the EU, with former minister Alan Johnson using a speech in western England to argue manufacturing jobs would be threatened by "Brexit."
"For British companies, British GDP and British exports, a decision to leave the European Union would be hugely damaging, it really would be a leap in the dark at a time when countries should be working more closely together," Johnson said. "Our manufacturing sector needs Britain to be playing a leading role in the European Union."
The latest opinion poll, from ICM, showed 42 percent of respondents in favor of staying in the bloc, with 40 percent opposed and 17 percent undecided. The online survey of 2,021 voters was conducted almost entirely before Johnson's announcement. A Survation poll carried out Saturday showed a 15 percentage-point lead for staying in. That's in line with other recent phone surveys, which have consistently shown big leads for the status quo, while more frequent online polling has been inconclusive.
Before it's here, it's on the Bloomberg Terminal.
LEARN MORE