For Tiny Denmark, `Brexit' About Much More Than Bacon and Eggs
by
The U.K. is the fifth-largest export market for Denmark

Both countries share misgivings about how the EU is run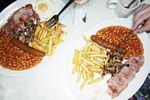 Order an English breakfast in London, and chances are you'll be served Lurpak buttered toast and Danish bacon with your eggs.
Raiding 8th century monasteries may not have been the most diplomatic way of starting a friendship, but few relations are as close these days as those between Denmark and the U.K. For the Scandinavian country, a British exit from the European Union, or Brexit, would mean not only losing unfettered access to a key export market but also a political ally on issues such as limiting banking regulations.
"We've only won a single stage of the race," Danish Prime Minister Lars Lokke Rasmussen said after last week's anti-Brexit deal was reached in Brussels. "The real victory won't be achieved unless the U.K. backs David Cameron," he said of the June referendum on EU membership.
Both leaders are free marketeers who are having to deal with voters' misgivings about the EU's encroachment on national sovereignty. Cameron is said to be a big fan of Borgen, a TV series that has made Danish political intrigue popular in the British isles.

Political Thriller
Come June 23, however, the thriller will be broadcast from London.
"If the U.K. votes to leave, we really don't know what could happen," Anders Ladefoged, head of Denmark Industry's Brussels office, said of the shadows hanging over Denmark's fifth-largest trading partner. A British departure from the EU would cause "years of uncertainty" for Danish companies, he said.
Jan Laustsen, who's in charge of sales and marketing at the Danish Agriculture and Food Council, said that dealing with non-EU markets usually involves "restrictions that make trade significantly more expensive and less attractive."
Although Britons bought more than 200 million kilos of Danish pork last year, it's not simply about how possible changes to food standards may affect bacon sales.
The U.K. is also a top destination for wind turbines made by Vestas Wind Systems, while Dong Energy A/S is currently building the world's biggest offshore wind farm off the Yorkshire coast thanks to EU subsidies and EU-wide rules.
"If the regulation of subsidies for wind turbines or public tenders are changed, then our companies will face extra costs for being in Britain," Ladefoged said in an interview.
Shared Interests
For tiny Denmark the U.K.'s future in the EU is about far more than commercial ties.
In the build up to last week's deal, Rasmussen emerged as one of Cameron's closest allies, backing his British colleague's demands for curbs on child benefit payments for migrant workers and protection for non-euro area banks.
Like Cameron, Rasmussen faces strong anti-immigrant sentiments at home and has promised to roll back as much bank regulation coming out of Brussels as possible.
"Without Britain, Denmark won't have the locomotive to tow Danish interests," said Marlene Wind, a professor of political science at the University of Copenhagen.
A vote against EU membership in Britain -- currently estimated at 40 percent in a note to clients from Nordea Bank AB -- would embolden euroskeptics such as the Danish People's Party, on whose support Rasmussen relies on in parliament. Unlike his nationalistic allies, the Danish premier often stresses the benefits of EU membership.
No wonder he was keen to underline how much is "at stake" for Denmark during last week's negotiations.

Before it's here, it's on the Bloomberg Terminal.
LEARN MORE