Citron's Left Sees Hong Kong Case as Investor Rights Fight
by and
Speaks in interview as Hong Kong begins two weeks of hearings

Tribunal says freedom of speech constrained by market impact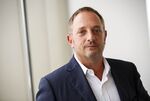 As far as Andrew Left is concerned, the inquiry by Hong Kong regulators into his bearish investment research is just a chance to press for shareholder rights.
Speaking in an interview from Los Angeles as Hong Kong authorities began two weeks of hearings into his statements about a Chinese property developer, the founder of Citron Research said the inquiry is an opportunity for his lawyers to make the case for short-sellers as a positive force in the market. The Securities and Futures Commission accuses Left of distributing false information about Evergrande Real Estate Group Ltd., which plunged in 2012 following one of his reports.
Though Left, who said he has no plans for more short sales in Hong Kong, faces a ban from the city's markets and potential fines should he lose the proceeding, he characterized his participation as voluntary. Facing an inquiry from the local regulator is a far cry from Left's experience in the U.S., where his sometimes inflammatory reports and comments can cause price swings in shares but little to no action from the authorities.
"I've been very respectful to the process," Left said of the Hong Kong investigation. "I could have not answered if I wanted to, but the social implications of this trial are big enough that I said this has to be addressed."
Presenting Truth
Evergrande was Left's first short in the market and he's not planning another. He hasn't been to Hong Kong because of the case, doesn't plan to go there, and has instructed his lawyers, who were hired through contacts, to "present the truth," he said.
"This should be more of a concern to the people of Hong Kong," Left said. "It's very important to have freedom of speech in financial markets."
Evergrande slid 0.8 percent to HK$5.18 in Hong Kong on Wednesday, after losing 1.3 percent yesterday. The shares are down 24 percent this year,
The SFC brought charges in December 2014, accusing Citron of making about HK$1.7 million ($218,700) in profit after selling short 4.1 million shares of Evergrande just before the report's publication. Citron's note said the company used accounting tricks, bribes and illegal purchases of land to remain solvent.
In July 2012, Evergrande filed a police report in Hong Kong, saying the claims were "groundless" and "totally untrue." While its shares have risen 60 percent over the past year, it's no stranger to attacks on its stock and is one of the most-shorted companies in Hong Kong. Evergrande, controlled by billionaire Chairman Hui Ka Yan, has bought back shares to help boost prices and piled on debt, leading some analysts and investors to bet against it. Evergrande officials could not immediately comment for this story.
Left rose to prominence in October when one of his reports, a bearish analysis of pharmaceutical giant Valeant Pharmaceutical International Inc., came out just before the company's shares plunged 40 percent on concerns about its drug marketing practices. Valeant has denied his claims. Before that, Left spent more than a decade operating his stock-commentary site, publishing more than 150 reports.
Helpful Views
Ashley Alder, the Chief Executive Officer of SFC, said in an interview that there are benefits to short-selling, including providing liquidity and "helpful views on companies, particularly if it's extremely well researched."
Though he declined to comment on Left's Citron hearing, Alder said that if "research is inaccurate, even deliberately at the other end of the scale, there is clearly a problem. We take action when we think it's justified."
Peter Duncan, a presenting officer for the SFC, told the Market Misconduct Tribunal on Monday that the commission's case is that Left didn't do enough to confirm his facts.
The tribunal will not restrict freedom of speech, Chairman Michael Hartmann said Monday.
"If you cannot feel free to make comment then it can be said that you don't have a transparent market," Hartmann said. At the same time, "you've got freedom of speech, but you can't distort the market with the use of freedom of speech."
Being Heard
"Short sellers have the right to be heard just as much as long investors -- they're a good sanity check on the market," said Ryan Bend, who oversees $450 million in Federated Investment Management Co.'s Prudent Bear Fund.
Left, a 45-year-old Florida native, hasn't avoided controversy. At one point, a section on his website was titled "So You Want to Sue Citron Research." Another chronicled his past legal entanglements, including sanctions by the National Futures Association stemming from his employment at a commodities trading firm that he joined in 1995.
Citron's hearing is the second case in the past six months in which the SFC has challenged market analysts. In September, the regulator claimed that Moody's Investors Service misled the public and violated a code of conduct by releasing a report about Chinese companies in 2011. Moody's denied the allegation, with its lawyer arguing the research was a preparation for a possible ratings review, not an actual ratings change.
A tribunal ruling in Moody's case will be prepared in the coming weeks, Hartmann also said on Monday.
"This action will crumble on the ground that he was not disseminating information but opinions and there is a key difference," David Webb, a shareholder activist, said about Left's case. "He is just an investor, who is expressing his point of view."
Before it's here, it's on the Bloomberg Terminal.
LEARN MORE