China Unseats London as Copper Hub as Stockpiles Travel East
by
Copper stockpiles tracked by Shanghai bourse climb to record

Shanghai warehouses now store more copper than LME depots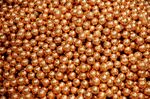 For the first time in more than a decade, China is the center for the world's copper stockpiles.
There's more metal in warehouses tracked by the Shanghai Futures Exchange than the London Metal Exchange as price differences make arbitrage trading profitable and encourage copper imports to China, according to Commerzbank AG. In Shanghai, stockpiles more than doubled since the end of August, reaching an all-time high, while LME-monitored inventories sank to a one-year low.

"There is a substantial surplus in China," Peter Hollands, the managing director of London-based Bloomsbury Minerals Economics Ltd, said by phone. "There is excess refinery and smelter capacity in China. There is a huge overhang of producer stocks."
Copper in Shanghai has been trading above the LME benchmark, leading traders to buy metal at LME prices, ship it to China and sell it for a profit.
China's imports of refined copper surged in December to the most on record, according to customs data. Inventory monitored by the Shanghai bourse swelled by more than 140,000 tons since Aug. 27 to 277,000 tons.
By comparison, LME-tracked stockpiles stand at 205,000 tons, about half the level from August. The London bourse oversees a network of more than 600 warehouses globally, with locations from Antwerp to Detroit and Busan, South Korea.
The London and Shanghai exchange data doesn't represent all of the world's metal inventory because much is held in private facilities.
"Chinese demand remains very, very weak," Kenneth Hoffman, an analyst at Bloomberg Intelligence in Skillman, New Jersey, said by phone. The nation's copper usage fell 2 percent to 4 percent last year, and 2016 probably won't be much better, he said.
Before it's here, it's on the Bloomberg Terminal.
LEARN MORE