These China Hedge Funds Dominated in Panicky Market
by
Segantii, Sylebra, Greenwoods, Tybourne among top 10 funds

Golden China dropped 11% in January, rose about 22% last year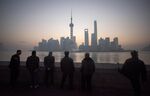 Chinese market tumult has been unnerving investors around the globe, but when volatility flares George Jiang, the founder of Shanghai-based hedge fund Greenwoods Asset Management, smells opportunity.
In 2015, the most tumultuous year in Chinese equities in a decade, Jiang's Golden China Fund returned almost 22 percent. It joins three other Asia-based funds near the top of Bloomberg's ranking of the 50 best-performing hedge funds worldwide with assets of $1 billion or more last year.

The strong performance by Segantii Capital Management, Sylebra Capital Management, Greenwoods and Tybourne Capital Management (HK) shows that the industry has matured in Asia, where a number of billion-dollar firms started after the 2008 financial crisis. These managers are being tested again this year as Chinese stocks extend their slump and the central bank steps up efforts to stimulate the economy and control the devaluation of the yuan.

In January, Golden China lost 11 percent, according to data compiled by Bloomberg, as the Shanghai Composite Index plunged almost 23 percent and gauges of Hong Kong- and U.S.-listed Chinese stocks also had double-digit declines. It's the kind of volatility that Jiang has navigated many times before.
Never Panics
"We watched the market closely when it tumbled but we were never panicky," said Jiang, who has a master's degree in international finance from the Graduate School of the People's Bank of China, the country's central bank. "The stock market tends to overshoot on either the upside or downside from time to time. And we want to take advantage of mistakes in the market when that occurs."
While most international institutions that Greenwoods has met with are cautious or pessimistic about China, a U.S. endowment and several family offices were planning to put more capital into the firm's funds in February, said Joseph Zeng, a Hong Kong-based Greenwoods partner. The firm has about $6.5 billion in assets under management.
The Segantii Asia-Pacific Equity Multi-Strategy fund, managed by a firm started in 2007, returned almost 30 percent to take third place in the ranking. Sylebra Capital Partners Master fund finished fourth. Golden China, a long-short fund, landed in the seventh spot, one place ahead of the Tybourne Equity Fund.
Jiang, 48, a former Shenzhen Stock Exchange official who founded Greenwoods in 2004, took advantage of the volatility last year. The Shanghai benchmark index jumped almost 60 percent in the first five-and-a-half months of last year before plunging as much as 43 percent over the next three months.
Buying Internet Shares
After Golden China lost more than 8 percent in both July and August, at the height of the China stock selloff, Jiang added to holdings of Chinese Internet companies such as Sina Corp. and consumer firms like Kweichow Moutai Co. that he expects to grow in different stages of the business cycle. During the year, the fund also sold holdings that had become expensive.
Helped by the fourth-quarter rebound of the American depository receipts of Chinese Internet companies, the fund booked double-digit returns during the year from Ctrip.com International Ltd., Sina and Youku Tudou Inc., said Zeng, the partner. Shares of those companies jumped as earnings beat estimates and mergers among technology companies boosted investor sentiment.
The fund also benefited from consumer companies with yuan- and foreign currency-denominated shares listed in China, such as jewelry maker and retailer Lao Feng Xiang Co. and spirits producer Kweichow Moutai, Zeng said. Golden China gained 14 percent in the final quarter of the year.
Fundamental Investor
"We remain a fundamental investor and value investor," Jiang said.
Greenwoods looks for "unicorns with wings amid a panic market," he said, referring to high-growth companies that can weather the business cycle. "We had identified a few recently, such as some companies in the education business and health-care sector. Also we added to some core holdings" after thorough due diligence "and believe they are fundamentally strong."
Greenwoods managers told investors in its November newsletters that Chinese companies' valuations will rebound from distressed levels seen during the market panic because of government easing to stimulate an economy. The country's economy is growing at the slowest pace in 25 years.
This isn't Jiang's first rodeo. Golden China, whose almost 28 percent annualized return from inception to December 2015 was more than twice that of the MSCI China Index, recorded two annual losses out of 11 full years of trading. In 2008, the fund declined almost 56 percent amid the global credit crisis. Investors fled, cutting its assets from an October 2007 high of $810 million to one-tenth of that size by February 2009.
Riding Out Turmoil
Today, Golden China investors are more willing to ride out short-term price swings in the Chinese market, Zeng said. "When investors heard that we added to high-conviction stocks after they fell a lot, and the rationale, most of them understood and felt comfortable," he said.
The fund, which started 2015 with $1.4 billion, drew hundreds of millions of net inflows last year, mostly in the first half, Zeng said. It had about $1.7 billion in assets at the end of January 2016.
In a show of confidence, Jiang added cash to a fund during the doldrums of July and August. And staffers poured "a significant amount" of capital into the firm's funds in January, Zeng said. 
Methodology
Bloomberg's rankings of the top-performing hedge funds are based on funds' net returns for 2015. Because hedge-fund returns can be difficult to obtain, our lists are not all-inclusive. In addition, some of the numbers were difficult to verify. Unless the information came from Bloomberg data or the hedge-fund firm itself, we tried to verify it with other sources, including investors and other fund databases. All returns are for full-year 2015; fund assets are the latest available. Onshore and offshore assets were combined for a number of funds, while figures for other funds were only for the larger or better-performing class of the fund.
Before it's here, it's on the Bloomberg Terminal.
LEARN MORE