`Brexit' Vote Risks Resolving Nothing on EU, Vince Cable Says
By
Referendum will probably be very close and outcome contested

Cable speaks in debate with former chancellor Norman Lamont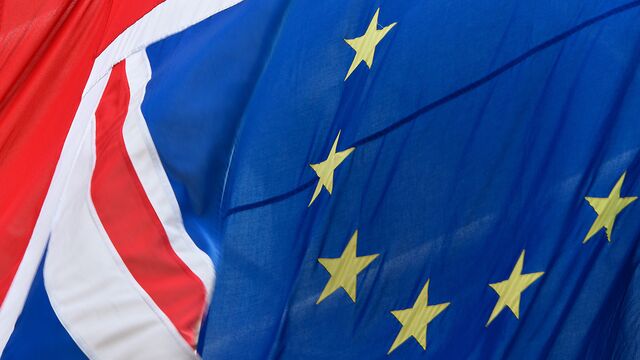 The U.K.'s referendum on membership in the European Union will probably go to the wire and still fail to resolve Britain's longstanding argument over its identity, according to Vince Cable, the former business secretary in Prime Minister David Cameron's first term.
"The likelihood is that the outcome will be close and that there will be people on both sides that will not accept the outcome," Cable said Tuesday during a debate with former Chancellor of the Exchequer Norman Lamont at the National Institute of Economic and Social Research in London. A narrow win for either side could be followed by years of "arguing with ourselves, internally, about whether we're in Europe or not," he said.
Cable, a Liberal Democrat who was involved in campaigning during the U.K.'s first ballot on EU membership in the 1970s, said the June 23 vote risks being "highly destabilizing" at a time when the rest of Europe is in flux due to factors including the refugee crisis. Calling a referendum now is "a thoroughly bad idea and can do nothing but harm," he said.
Cameron called the in-out referendum after securing a deal with fellow EU leaders last week including curbs on welfare for non-British EU citizens, measures to block unwanted regulation and U.K. exemption from the EU goal of "ever closer union." Since then, the campaigning on both sides of the debate has heated up, with Cameron's friend and fellow Conservative, London Mayor Boris Johnson, calling for a U.K. exit to save the country money and gain more control over lawmaking.
A key argument by "Brexit" campaigners is that Britain would be better off pursuing its own trade deals independently of the bloc, which provides tariff-free access to a market of about 500 million workers and consumers. That argument is "very flimsy," said Cable.
Both former ministers said that each side of the debate tends to inflate economic arguments.
Lamont, a longtime Euro-skeptic who has yet to declare his stance on the referendum, said the idea that Britain could achieve a new trading "nirvana" by striking out on its own is exaggerated by those who campaign to exit.
He said that Europe is "ineffective" and "incoherent," but issues of confidence, influence and possible damage to the financial-services industry have made him doubt whether quitting the EU is the best option for the U.K.