Will.i.am Gets Deutsche Telekom to Sell His Smartwatch in Europe
By
Black Eyed Peas star's `dial' doesn't require a mobile phone

`It's artificial intelligence that's personal to you'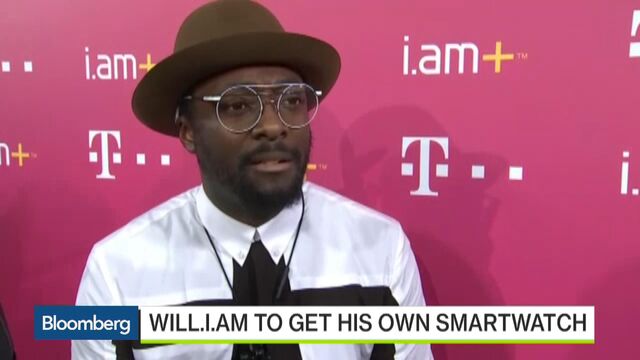 Musician-turned-entrepreneur Will.I.Am has lined up Deutsche Telekom AG to sell his 'dial' smartwatch in Europe.
The device, the latest gadget developed by the Black Eyed Peas star, is based on a self-learning voice-based operating system. The product can be used to call, text, e-mail, track fitness and stream music -- and unlike wearables including Apple Inc.'s watch, dial isn't tethered to a smartphone, according to the German carrier, which said on Monday it will begin sales this year.

Will.I.Am, whose real name is William Adams, showed off the device to reporters covering Mobile World Congress in Barcelona over the weekend by asking it to find popular dance music artists and restaurants nearby. Dial's operating system "AneedA," which users control with their voice, is able to learn over time when it's used, for example by determining if a missed call is important or not, he said. 
"It's artificial intelligence that's personal to you," Will.I.Am said.
Bonn-based Deutsche Telekom, which offers services in countries including Germany, Austria, Croatia and the Czech Republic, declined to comment on pricing. The mobile-phone service Three, owned by CK Hutchison Holdings Ltd., said previously it will distribute dial in the U.K.

At Mobile World Congress, taking place in Barcelona this week, Deutsche Telekom Chief Executive Officer Tim Hoettges was wearing a dial at a press conference Monday and called it "a very cool device."
Will.I.Am's company, i.am+, has launched several tech gadgets in the past, including a smartwatch called the Puls that failed to find support from consumers.
Before it's here, it's on the Bloomberg Terminal.
LEARN MORE