Spokesman for Hong Kong `Separatist' Group Charged Over Riot
by
Ray Wong charged with inciting others in Lunar New Year clash

Police seize `electromagnetic gun,' $68,000 in cash in raid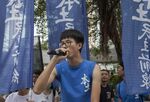 A spokesman for a pro-independence Hong Kong group dubbed "radical separatists" by the Chinese government has been arrested in connection with riots during the Lunar New Year holiday that left more than 100 people injured.
QuickTake Hong Kong's Autonomy
Ray Wong Toi-yeung, a 22-year-old spokesman for Hong Kong Indigenous, was one of two men arrested during a raid Sunday at an apartment in the city's northwestern area of Tin Shui Wai, according to police and a posting on the group's Facebook page. Wong was charged with inciting others to take part in a riot and possession of a prohibited weapon and controlled substances, police said.
Police said they seized HK$530,000 ($68,000) in cash, 100 pills, an extendable baton and a device described as an "electromagnetic gun." Several local newspapers published photographs of police holding the confiscated goods, including prescription-only Viagra, body armor and a Guy Fawkes mask popular among protesters.
"Spokesperson Wong Toi-yeung has confirmed that he was arrested at noon today by police at an apartment," Hong Kong Indigenous said Sunday on Facebook. "He is now in Tin Shui Wai police station. We have contacted a lawyer to follow up and some members of our group are on the way to the police station to get more details."
Hong Kong Indigenous is among several pro-independence "localist" groups that have proliferated amid debate over China's control over the former British colony. The group -- formed after largely peaceful protests in 2014 failed to bring about compromise from Beijing -- favors more aggressive action and called members to the crowded shopping district of Mong Kok on Feb. 15 to support local food vendors. The protest descended into a riot involving more than 700 people and leaving more than 90 police injured.

'Shattered Vessel'
Wong, who was filmed during the unrest standing on a vehicle and holding a megaphone, was the latest of 72 people arrested in connection with the incident. China's top official in Hong Kong, Zhang Xiaoming, blamed the riots on "radical separatists" who were "inclined toward terrorism," harsh language that the ruling Communist Party usually reserves for dissidents in the country's restive regions of Tibet and Xinjiang.
Hong Kong Police also arrested another 28-year-old man surnamed Cheung in the raid and charged him with participating in a riot and assisting an offender. 
Wong hadn't been seen in public since posting a cryptic "final message to the people of Hong Kong" on his Facebook page 12 days earlier. In it, he said he would rather be a "shattered vessel of jade than live in shame."
Before it's here, it's on the Bloomberg Terminal.
LEARN MORE