Morneau Revisions Puts Canada on C$30 Billion Deficit Path
by
Three-year forecast C$26.9 billion worse than Nov. update

Minister paints fiscal picture ahead of March 22 budget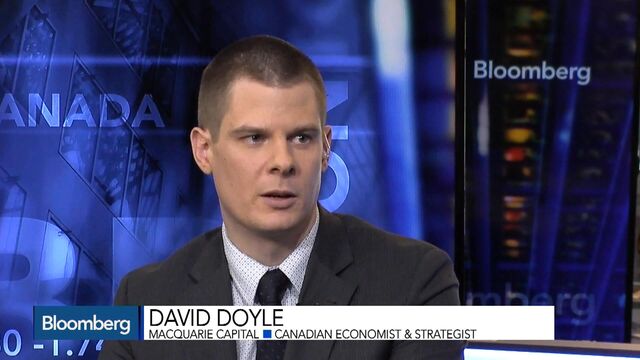 Finance Minister Bill Morneau released new forecasts suggesting Canada will run deficits in the vicinity of C$30 billion ($22 billion) this year, as the slump in crude prices takes a bigger bite out of the nation's finances than previously thought.
A fiscal update Monday -- released a month before Morneau's first budget is due -- showed Canada's deficit in the year that begins April 1 is on pace to be C$18.4 billion, even before the bulk of Prime Minister Justin Trudeau's C$11 billion in spending promises and any other stimulus measures are accounted for. A deficit of that magnitude -- totaling about 1.5 percent of output -- would be the largest since 2010.
"A less ambitious government might see these conditions as a reason to hide, to make cuts or to be overly cautious," Morneau said during a town hall meeting in Ottawa. "Our government believes strongly that the economic downturn makes our plan to grow the economy even more relevant than it was a few short months ago."
The figures show the extent to which Trudeau is drawing down some of the dividends from Canada's three-decade effort of fiscal consolidation that has made the country one of the least-indebted countries in the western world. It's a stark turnaround from a year ago, when Trudeau's predecessor forecast small surpluses for each of the three years.
Budget Balance
Trudeau too had pledged during the election campaign only "modest" deficits capped at C$10 billion that would be balanced by the end of his mandate in 2019-20. Morneau today reiterated it would be "difficult" to meet the balanced budget pledge under the current economic situation.
Morneau cut his 2016 GDP growth forecast to 1.4 percent, from 2 percent in November, the last time the government updated its projections. He also reduced the government's projection for West Texas Intermediate to $40 a barrel in 2016 and $52 in 2017. An annual risk cushion of C$6 billion is built into the forecast, which goes only through 2017, because the finance department believes there is a huge downside to these projections.
The Canadian dollar pared gains after the report, trading at C$1.3691 per U.S. dollar at 11:12 a.m., after touching C$1.3662 earlier. Yields on government 10-year bonds rose 1 basis point to 1.12 percent, while the Standard & Poor's/TSX Composite Index climbed 0.8 percent.
The deficit for the fiscal year that begins April 1, 2017 is projected to narrow to C$15.5 billion, not including new budget measures. The shortfall for the fiscal year that ends March 31 is forecast to be C$2.3 billion. All told, the cumulative deficit over the three fiscal years will total C$36.2 billion, or C$26.9 billion worse than Morneau's forecast in the November update.
The revised figures include some of the election pledges Trudeau has already acted on, including a middle-class tax cut that proved more expensive than the Liberals predicted, the welcoming of Syrian refugees and a new military mission against the Islamic State. It also budgets C$300 million in stabilization funding for Alberta, the country's biggest oil producer.
Campaign Pledges
It doesn't include the bulk of the Liberal party's promises, which include a pledge to ramp up spending for infrastructure, family allowances and employment insurance benefits. Speaking to reporters in Ottawa, Morneau said his government plans to implement the election pledges, while declining to rule out any additional stimulus measures. He also ruled out raising taxes.
"In times of economic volatility, the right approach is to invest in the economy," Morneau said when asked if his budget would add to campaign pledges. "We'll have much more details in the next few weeks."
Before it's here, it's on the Bloomberg Terminal.
LEARN MORE