HSBC CEO Takes Pay Cut as Share of Bank Millionaires Rises
by
CEO's 7.3 million-pound package is lowest since taking charge

HSBC cuts annual bonus pool to $3.5 billion from $3.6 billion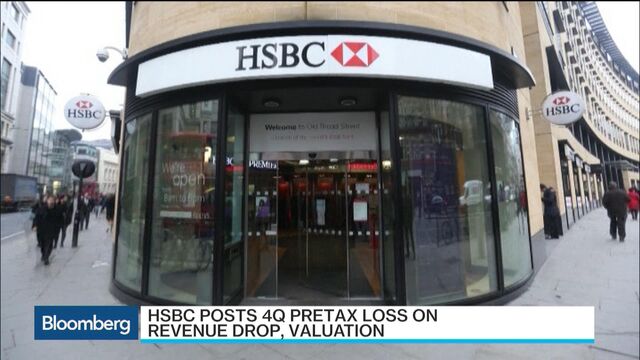 HSBC Holdings Plc awarded Stuart Gulliver the lowest pay package since he took over as chief executive officer in 2011 as a larger share of senior bankers at Europe's largest bank earned more than 1 million euros ($1.1 million).
Gulliver, 56, had his variable pay for 2015 cut to 3 million pounds ($4.2 million) from 3.4 million pounds a year earlier, the London-based bank said in its annual report on Monday. His salary and share allowances remained at 3.6 million pounds, while benefits increased to 662,000 pounds from 589,000 pounds a year earlier.

HSBC cut the annual bonus pool to $3.5 billion from $3.6 billion in 2014 as profit was hit by loan-impairment charges and fair-value losses on its debt. Overall employee compensation fell to $19.9 billion last year from $20.4 billion.
The bank reported an increase in the number of senior employees earning more than 1 million euros to 453, from 320 a year ago, after currency movements dragged more individuals into the category of staff it must report to meet European bonus rules. HSBC said 1,309 of its material risk takers and senior managers earned a combined $1.5 billion, up from 1,178 individuals earning $1.3 billion a year ago.
HSBC's highest paid senior executive, who wasn't identified in the annual report, was awarded total pay and bonuses worth 10.3 million pounds. Chairman Douglas Flint's total pay was little changed at 2.5 million pounds, while Finance Director Iain Mackay saw his compensation rise by 176,000 pounds to 4.3 million pounds.
Gulliver, who was given bank-owned accommodation in Hong Kong worth 281,000 pounds and a car worth 87,000 pounds, met 45 percent of his targets in 2015 leading to total compensation of 7.34 million pounds. He could have earned more than 10.7 million pounds had he met all of his targets.
Pension Cuts
Gulliver fell short of profitability targets and was also marked down for risk and compliance incidents, unsatisfactory internal audits covering anti-money laundering and feedback from the U.S. Department of Justice monitor. The DOJ installed a monitor after the bank's $1.9 billion settlement in 2013 over allegations it helped Latin American drug cartels to launder billions of dollars.
HSBC said it would reduce the percentage of cash it would offer in lieu of benefits such as pension payments from 50 percent of base salary to 30 percent after responding to shareholder concerns over the level of such payments in previous years. About 24 percent of shareholders voted against the bank's executive pay report in April amid concerns over high compensation at a time of faltering earnings growth and a slump in shares.
HSBC's average headcount fell by 2,400 to 255,203 at the end of December, as the bank cut businesses around the globe, with the biggest reductions in Europe and Latin America. The average number of employees in Asia, the bank's largest region by total staff , increased by 1,822, according to the annual report.
HSBC shares fell 2.3 percent to 439.70 pence at 1:29 p.m. in London. They have decreased about 18 percent this year.
(A previous version of this story corrected Gulliver's 2014 variable pay.)
Before it's here, it's on the Bloomberg Terminal.
LEARN MORE