How the Bank of Japan Made Negative Rates More Politically Palatable
By putting more pressure on foreign banks.
by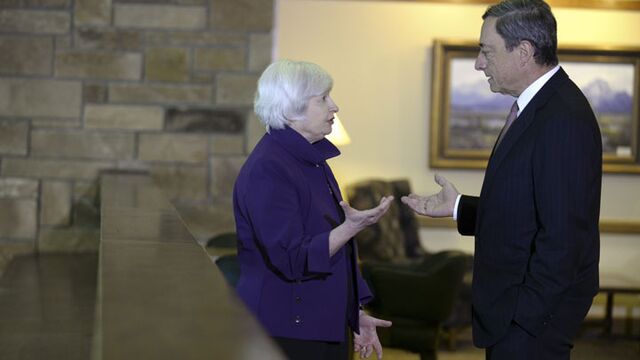 The Bank of Japan has found a novel way to ensure that its negative interest rate system isn't viewed primarily as a tax on domestic financial institutions.
According to Deutsche Bank strategist Robin Winkler, the design of the tiered regime is such that foreign banks (along with Japan Post Bank Co. Ltd.) will be shouldering a particularly heavy load in terms of the added costs levied against them.

Unlike regional Japanese banks, these institutions have been building up their reserves significantly as of late, leaving them with a greater amount of excess liquidity that will be subject to a penalty.
"Much of this recently accumulated liquidity, plus required reserves, is therefore pushed into the lower tiers by design," he explained.
Having foreign banks penalized more than domestic institutions provides the central bank with political cover to cut rates further into negative territory, the strategist hypothesized.
"Whether this asymmetric cost distribution was predicted, let alone intended, by BoJ staff when designing the system is unclear," writes Winkler. "However this may be, it is advantageous for the BoJ that foreign banks bear a large burden."
Foreign banks are more likely to reduce excess liquidity and purchase riskier, foreign assets, supporting portfolio rebalancing and fostering weakness in the yen, two methods by which the Bank of Japan's stimulus has an effect on real economic activity. However, Japanese investors will not have such an easy time accumulating foreign assets, said Winkler, as hedging ratios are likely to increase, thereby blunting the effective transmission of monetary policy via the portfolio rebalancing channel.
"Alongside the falling real rate differential, this is the main reason why we think USD/JPY is at greater risk of falling into a 105-110 range than of regaining its former 115-125 range," the strategist concludes.
How central banks interact with one another and the foreign banks that operate in their locales has become a more prominent subject as of late amid the more widespread take-up of negative rates, asset sales by emerging-market central banks that have crimped risk appetite, and the Federal Reserve's first interest rate hike in nearly a decade.
Foreign central banks have been active users of reverse repurchase agreements with the Fed, the new tool Janet Yellen & Co. are using to adjust their policy rate in light of the central bank's expanded balance sheet.
Zoltan Pozsar, analyst at Credit Suisse Group AG, recently suggested that "the New York Fed has some explaining to do," given the popularity of foreign reverse repurchase agreements to date and the lack of transparency surrounding the terms of these arrangements.
Before it's here, it's on the Bloomberg Terminal.
LEARN MORE