Hong Kong Lays Out Case Against Citron Research's Andrew Left
by
Evergrande report was prompted by whistleblower, lawyers say

Left may face markets ban and return profits from short sale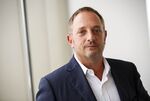 Hong Kong authorities started two weeks of hearings against U.S. short-seller Andrew Left by claiming he misled investors when he published a research report on a Chinese company.
Evergrande Real Estate Group Ltd.fell 20 percent on June 21, 2012, when Left released his note claiming that the company used accounting tricks "to mask" insolvency. Evergrande, based in Guangzhou, China, denied the claims and later filed a police report. Hong Kong's Securities and Futures Commission is accusing Left of market misconduct by distributing false information about a company listed in the city's market. Left's lawyers denied the charges.
"The Commission's case is that Mr. Left knew, or was reckless or negligent to whether that information was false or misleading as to material fact, or was false or misleading through the omission of a material fact," Peter Duncan, a presenting officer for the SFC, told the Market Misconduct Tribunal on Monday.
The SFC brought charges against Left and his firm Citron Research in December 2014, accusing him of making about HK$1.7 million ($218,700) in profit after selling short 4.1 million shares of Evergrande just before the report's publication. If Left loses the case, he could be banned from dealing in the Hong Kong financial markets, said Timothy Loh, who represented Left in the hearing. He may also face a disgorgement order, be asked to repay costs of the hearing and face other civil claims, the lawyer said.
Legitimate Act
It's important to establish whether Left used the report to profit from the short-selling opportunity, or whether he sold Evergrande shares after verifying through the research that the company's valuation was too high, the tribunal's chairman Michael Hartmann said. 
"Shorting of shares is legitimate in the market," Hartmann said.
Citron's Evergrande report was prompted by a whistle-blower, who sent Left a bundle of documents about the company in March 2012, according to both Duncan and Laurence Li, another of Left's lawyers. For his research Left only used information that he could publicly verify and pull from the Internet, Li said at the hearing, which is set to continue until March 4.
Citron has published more than 150 reports in the past 14 years, according to its website. Valeant Pharmaceuticals International Inc. is one of Left's most recent, and famous, targets. On Oct. 21 Citron accused Valeant of an Enron-like strategy of recording fake sales. Even though the company denied the claims, its shares have since fallen by more than 40 percent.
Before it's here, it's on the Bloomberg Terminal.
LEARN MORE