G-20 Leaders Are Fighting for a Better Financial Safety Net
by
Improved safety net would offer support to emerging economies

Central bankers, finance ministers meet in Shanghai this week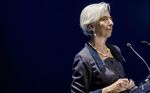 Finance chiefs from the Group of 20 advanced and emerging economies will discuss ways to bolster a safety net for the global financial system when they meet in Shanghai this week, according to officials familiar with the talks.
Among the topics for discussion will be how to coordinate existing resources, such as individual countries' foreign-exchange reserves, regional emergency-funding agreements, central bank swap lines and the International Monetary Fund to fight any economic crisis, the officials said, asking not to be named because details of the meeting's agenda haven't been publicly announced.
Focus on the Feb. 26-27 gathering has risen amid the global sell-off in stocks this year and a surge in currency volatility that's spurred calls from some quarters for policy coordination among the biggest economies. While former officials have played down the likelihood of joint actions to address market ructions, momentum could develop for smaller agreements on ways to help non-developed economies in particular.
With money pouring out of emerging nations, officials will be discussing measures to counter extreme volatility in capital flows, improvements to collective action clauses that could help avoid disorderly bond defaults, along with reforms to the IMF, according to the people.
The Institute of International Finance estimates that $3.6 billion left emerging markets in January alone, an unprecedented seventh consecutive month of outflows. While safety nets already exist, the structures are varied. In Asia, in addition to reserves and potential aid from development banks, some governments can call on the Chiang Mai Initiative, a foreign-currency reserve pool created by Japan, China, South Korea and 10 Southeast Asian nations that took effect in 2010. China has set up swap lines in yuan with a number of counterparts.
Lagarde Support
Officials say the discussions are unlikely to yield any major agreement in the near term, but could gain momentum as the year progresses. The push has the backing from IMF Managing Director Christine Lagarde, who said on Friday that global coordination is needed to address spillovers from monetary policies around the world. In a February speech, she flagged the need to revamp the global safety net.
China, which is chairing the G-20 this year, has already charged a working group led by South Korea and France to develop proposals, including a strengthening of the role of the IMF's reserve-currency unit. The IMF unit, called the Special Drawing Right, is set to incorporate China's yuan as a component later this year.
There have been efforts in this area before: As chair of the G-20 in 2010, South Korea advocated the adoption of permanent currency swap lines to bolster international safeguards. The U.S. blocked the idea, with then-Federal Reserve Chairman Ben S. Bernanke saying officials shouldn't provide a "permanent service" to financial markets.
China's hosting of the G-20 forum this year culminates in a leaders' summit in September, and its officials are pushing a detailed and diverse platform that covers everything from bolstering investment in infrastructure to climate-friendly financing, the people said. The weakening global-growth outlook and how policy makers should respond will dominate the agenda when the G-20 central bank governors and finance ministers gather. China itself faces calls to make its own currency and macroeconomic policies clearer at the meeting.
"The reality is that a crisis rarely appears from an area where it has been anticipated, and meaningful cooperation typically only arises in reaction to a problem," said Richard Jerram, the chief economist at Bank of Singapore.
Before it's here, it's on the Bloomberg Terminal.
LEARN MORE