Canadian Stocks Advance to Move Closer to Erasing 2016 Losses
Eric Lam
S&P/TSX less than 1.5% away from wiping out declines for year

Crude tops $31 a barrel Monday to boost energy companies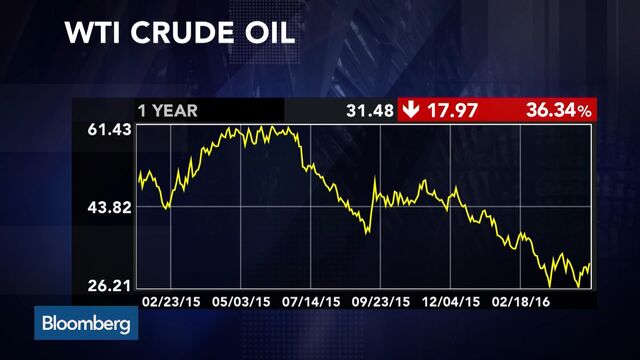 Canadian stocks, among the worst-performing developed markets last year, advanced to approach a level that would erase declines for 2016.
A rebound in crude helped the Standard & Poor's/TSX Composite Index rise 0.3 percent higher to 12,845.63 at 4 p.m. in Toronto. The gauge gave up some earlier gains of as much as 1.3 percent. The index is 1.3 percent away from wiping out declines for the year after the benchmark gauge tumbled as much as 9 percent to a low in January. Oil recovered on Monday to surpass $31 a barrel amid speculation a production freeze by some OPEC members and Russia could help alleviate a surplus that sent prices plunging.

The S&P/TSX, which slid into a bear market in January as crude prices collapsed, has outpaced equities across the developed world this year, topping returns from markets in the U.S., U.K. and Germany. The MSCI World Index of developed-nation markets is down 6.3 percent in 2016. Material and energy shares have led the Canada's gauge since last month.
West Texas Intermediate oil for March delivery, which expired Monday, climbed $1.84 to settle at $31.48 a barrel on the New York Mercantile Exchange, extending gains after a 0.7 percent advance last week. Saudi Arabia, Russia, Venezuela and Qatar reached a preliminary agreement in Doha last week to freeze output at January levels. New York crude is still down 15 percent this year.
Iran was "constructive" on the deal struck last week to limit output, although it hasn't said whether it may join the pact, Russian Energy Minister Alexander Novak told state TV on Saturday.
Energy producers surged 2.4 percent to lead gains as seven of 10 industries in the S&P/TSX advanced. Penn West Petroleum Ltd. and Crescent Point Energy Corp. rallied at least 5.6 percent. Suncor Energy Inc., the nation's largest oil producer, added 3.1 percent. The S&P/TSX Energy Index has soared 15 percent from a Jan. 20 low, when the gauge slumped to a 2004 low.
Royal Bank of Canada and Bank of Nova Scotia dropped at least 1 percent to pace declines with financial stocks. Bank of Montreal and National Bank of Canada are set to report first-quarter earnings Tuesday, kicking off earnings week for the nation's largest lenders. Royal Bank of Canada follows on Feb. 24.
Valeant Pharmaceuticals International Inc. slumped 11 percent to fall a third day. Valeant, briefly the largest company in the S&P/TSX by market capitalization last year before the stock plunged amid scrutiny over its pricing practices, extended losses last week after analysts at Wells Fargo Securities initiated coverage with an underperform rating, the equivalent of a sell, on Feb. 19.
Before it's here, it's on the Bloomberg Terminal.
LEARN MORE